AntiVirus Plus 2014. How to remove? (Uninstall guide)
AntiVirus Plus 2014 is a freshly-released rogue anti-spyware, which belongs to the same group of threats as Smart Securiy, Privacy Protection, Security Protection and many other rogues. Just like previous viruses, this program is set to the only aim – make people believe that their computers are infected. That's why as soon as AntiVirus Plus 2014 gets on its target PC system, it starts displaying continuous pop-up ads that report about different viruses. Of course, this program has no virus database, so it is not capable to detect viruses or other threats on computer. If you fall for AntiVirus Plus 2014 ads, you may remove legitimate system files that are important for normal PC's functionality. That's why we highly recommend ignoring every alert that belongs to AntiVirus Plus 2014. In addition, you should waste no time and remove this misleading security program from your computer.
HOW CAN AntiVirus Plus 2014 INFECT MY COMPUTER?
AntiVirus Plus 2014 can easily infiltrate your PC unnoticed. For that, it relies on trojan horse, which can hide inside malicious emails, infected software, unlicensed programs and other places. You can protect your machine against this rogue by installing reliable anti-malware and always keeping it up-to-date. If AntiVirus Plus 2014 manages to sneak inside the PC, it starts showing up every time victim reboots it. Typically, it displays such and similar alerts that all report about nonexistent problems:
FIREWALL WARNING!
Hidden file transfer to remote host has been detected
Antivirus Plus 2014 has detected a leak if your files though the Internet. We strongly recommend that you block the attack immediately.
Activate Antivirus Plus 2014
make your PC free from all kinds of threats
Please click "Activate Now" to continue with a secure purchase of Antivirus Plus 2014 license. As soon as you complete activation, you will
(…)
Please, ignore such alerts because they seek to make you purchase Antivirus Plus 2014 license. If you fall for purchasing this scam, you can not only lose your money. You can also share your credit card details with scammers. If you paid for this licensed version. you should contact your credit card company and dispute charges. In addition, you must remove Antivirus Plus 2014 from your computer:
HOW TO REMOVE ANTIVIRUS PLUS 2014?
In order to remove Antivirus Plus 2014, you have to uninstall all malicious files that belong to this rogue. For that we recommend using any of these applications: Malwarebytes Malwarebytes, Reimage, Plumbytes Anti-MalwareNorton Internet Security. If you have problems with removal, reboot your machine to Safe Mode with Networking and try launching these programs again. You can also follow these steps:
1. Reboot your computer to Safe Mode with Networking. Just reboot your PC and, as soon as it starts booting up, start pressing F8 repeatedly.
2. Loggin as the same user as you were in normal Windows mode
3. Now click on IE or other browser and select 'Run As' or 'Run As administrator', enter your Administrator account password (if needed).
4. Enter this link to your address bar: https://www.2-spyware.com/download/hunter.exe and download a program on your desktop.
5. Launch it to kill the malicious processes and remove its files.
Alternate Software
We have tested Plumbytes Anti-Malware's efficiency in removing AntiVirus Plus 2014 (2013-12-09)
We have tested Malwarebytes's efficiency in removing AntiVirus Plus 2014 (2013-12-09)
We have tested Hitman Pro's efficiency in removing AntiVirus Plus 2014 (2013-12-09)
We have tested Malwarebytes's efficiency in removing AntiVirus Plus 2014 (2013-12-09)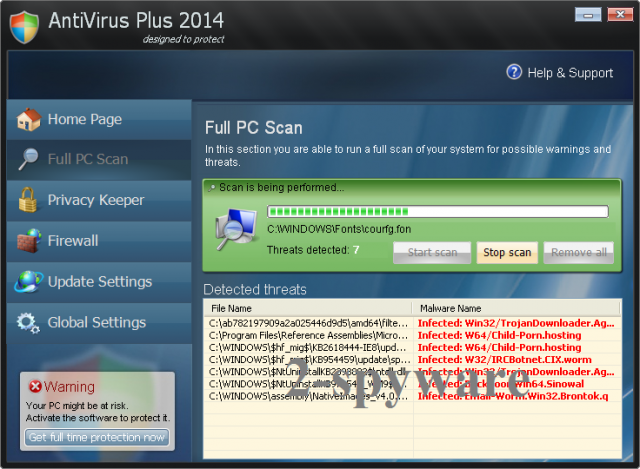 AntiVirus Plus 2014 manual removal:
Kill processes:
[random].exe
Delete files:
[random].exe
About the author
Removal guides in other languages