Antivirus Solution 2010. How to remove? (Uninstall guide)
Antivirus Solution 2010 is a rogue anti-spyware program from the same family as Antivirus Studio 2010. This rogue is typically installed through the use of Trojans that masquerade as flash player that is required to be installed in order to watch fake online videos. Antivirus Solution 2010 pretends to scan the compromised computer and detects fake infections that can't be removed until the program is purchased. It also display fake security warnings and alerts on the infected computer. These alerts state that your computer is infected with all sorts of malware and that you should purchase Antivirus Solution 2010 in order to remove the infections and to protect your computer against malware. These warnings are just another attempt to scare you into thinking your computer has some sort of security problem. Some of the fake security alerts are:
Unauthorized remote connection!
Your system is making an unauthorized personal data transfer to remote computer!
Warning! Unauthorized personal data transfer Is detected! It may be your personal credit card details, logins and passwords, browsing habits or information about files you have downloaded.
Security Center
No firewall is turned on
Automatic Updates is turned off
Antivirus software might not be activated
Click this balloon to fix this problem.
Antivirus Solution 2010 also hijackers Internet Explorer and displays fake messages about insecure internet activity. The fake message reads:
Reported Insecure Browsing: Navigation Blocked
Insecure Internet Activity. Threat of virus attack
Due to insecure Internet browsing your PC can easily get infected with viruses, worms, and trojans without your knowledge, and that can lead to system slowdown, freezes and crashes. Also insecure Internet activity can result in revealing your personal information.
As you can see, Antivirus Solution 2010 was created to trick you into thinking that your computer has viruses so that you then purchase it. Please don't purchase this bogus program. If you have already purchased the program, then I suggest you contact your credit card company and dispute the charges. Finally, to remove Antivirus Solution 2010, please use the removal instructions below. You can choose to remove it manually or with an automatic removal tool.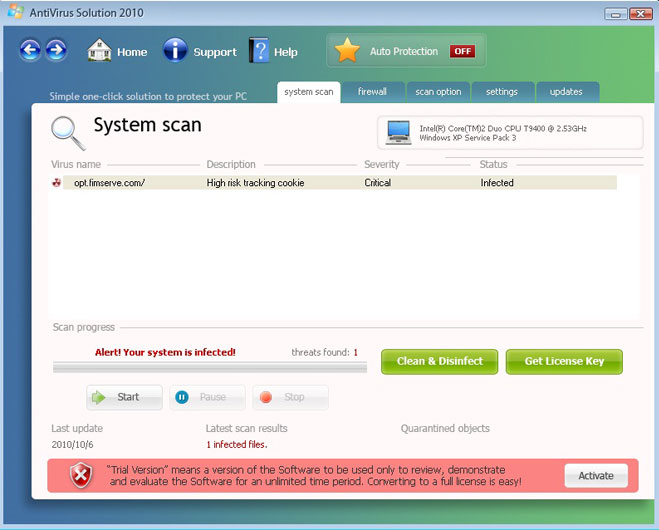 Antivirus Solution 2010 manual removal:
Kill processes:
Antivirus Solution 2010.exe
securitycenter.exe
securityhelper.exe
Delete registry values:
HKEY_CURRENT_USERSoftwareAntiVirus Solution 2010
HKEY_CURRENT_USERSoftwareMicrosoftWindowsCurrentVersionUninstallAntiVirus Solution 2010
HKEY_CURRENT_USERSoftwareMicrosoftWindowsCurrentVersionRun "3dfrsdfrtn3s"
HKEY_CURRENT_USERSoftwareMicrosoftWindowsCurrentVersionRun "AntiVirus Solution 2010"
Delete files:
Antivirus Solution 2010.exe
securitycenter.exe
securityhelper.exe
Delete directories:
%UserProfile%Application DataAntivirus Solution 2010
%UserProfile%Start MenuProgramsAntivirus Solution 2010
About the author