Antivirus Studio 2010. How to remove? (Uninstall guide)
Antivirus Studio 2010 is a rogue security program from the same family as Desktop Security 2010. This fake security program is promoted mainly through the use of fake online anti-malware scanners and malicious websites but in some cases it comes bundled with other malware, usually Trojans. Once installed, Antivirus Studio 2010 will pretend to scan your computer for malware. It will report that your computer is infected with numerous Trojans, adware, spyware and other malware. AntivirusStudio 2010 won't let you to remove these supposedly found infections unless you first purchase the full version of the program. You will get a lifetime license and special support for $90. This would be great if it were true. Unfortunately, Antivirus Studio 2010 is a scam. It won't remove any infections form your computer simply because it's an actual virus itself. If you find that your computer is infected with this scareware, please use the removal instructions below to remove Antivirus Studio 2010 from the system immediately. You can choose to remove it manually but we strongly recommend to use automatic removal tool for Antivirus Studio 2010 because there might be other malware on your computer as well.
While AntivirusStudio2010 is running, it will display fake security alerts, block legitimate security programs claiming that they are infected and hijack your web browser. Some of the fake security alerts are:
Security Center
No firewall is turned on
Automatic Updates is turned off
Antivirus software might not be activated
Click this balloon to fix this problem.
Unauthorized remote connection!
Your system is making an unauthorized personal data transfer to remote computer!
Warning! Unauthorized personal data transfer Is detected! It may be your personal credit card details, logins and passwords, browsing habits or information about files you have downloaded.
To help protect your computer, Security Center has blocked some features of this program.
Do you want to block this suspicious software?
Name: Screen.Grab.J.exe
Risk: High
Antivirus Studio 2010 has its own security center. It claims that your antivirus software is not activated and that your computer is not protected against various security threats and attack from the Internet. It displays modified task manager claiming that there are several infected processes, but the most interesting thing is that it flags Antivirus Studio 2010 process as infected too. This rogue program also hijacks web browsers and displays such fake message:
Reported Insecure Browsing: Navigation Blocked
Insecure Internet Activity. Threat of virus attack
Due to insecure Internet browsing your PC can easily get infected with viruses, worms, and trojans without your knowledge, and that can lead to system slowdown, freezes and crashes. Also insecure Internet activity can result in revealing your personal information.
As you can see, the main goal of Antivirus Studio 2010 is to scare you into thinking that your computer is infected. Please don't buy this bogus program. If you have already purchased it then please contact your credit card company and dispute the charges. Detailed Antivirus Studio 2010 removal instructions are given below.
Alternative Software
Different security software includes different virus database. If you didn't succeed in finding malware with Reimage, try running alternative scan with Malwarebytes.
Alternative Software
Different security software includes different virus database. If you didn't succeed in finding malware with Reimage, try running alternative scan with Combo Cleaner.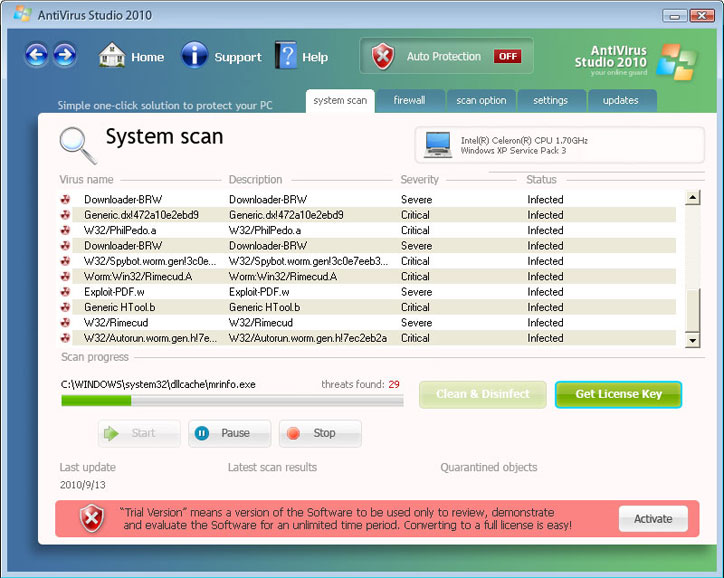 Antivirus Studio 2010 manual removal:
Kill processes:
AntiVirus Studio 2010.exe
securitycenter.exe
securityhelper.exe
Delete registry values:
HKEY_CURRENT_USERSoftwareAntiVirus Studio 2010
HKEY_CURRENT_USERSoftwareMicrosoftWindowsCurrentVersionUninstallAntiVirus Studio 2010
HKEY_CURRENT_USERSoftwareMicrosoftWindowsCurrentVersionRun "AntiVirus Studio 2010"
HKEY_CURRENT_USERSoftwareMicrosoftWindowsCurrentVersionRun "SecurityCenter"
Unregister DLLs:
taskmgr.dll
Delete files:
AntiVirus Studio 2010.exe
securitycenter.exe
securityhelper.exe
02c9c3c35bdx5.exe
17dkf.exe
1iowieoo.exe
2010yo.exe
472a10e2ebxd9.exe
56493.exe
8gmsed-bd.exe
a75wef8e0e7.exe
ae0965a7157cd.exe
al3erfa3.exe
aler3fa.exe
alerfa.exe
alerfa2.exe
alerfa322.exe
aqfitrlxi2.exe
backd-efq.exe
brdss.exe
bzqa43d.exe
cffd4.exe
cosock.exe
cowceb.exe
cunifuc.exe
dc_3.exe
dd10x10.exe
ddhelp.exe
ddoll3342.exe
destroyer.exe
dkfjd93.exe
ds7hw.exe
dwl_bqz.exe
eelnvd13.exe
eephilpe.exe
exppdf_w.exe
fadz43.exe
fe.exe
format.exe
g_dx234.exe
gedx_ae09.exe
gpdfsws_bbg.exe
gpupz2a.exe
hardwh.exe
hhbboll_2.exe
hiphop.exe
hjkgfddd.exe
hodeme.exe
htfad4.exe
hvipws9.exe
jdhellwo3.exe
jofcdks.exe
kgn.exe
kilslmd.exex
kjh102k3.exe
kn.a.exe
kock.exe
ljts-23.exe
lkhgg_ea.exe
lols.exe
lorsk.exe
ploper.exe
poertd.exe
ppddfcfux.exxe
pswwg3c.exe
puzpup.exe
qwedvor.exe
qwklrvjhqlkj.exe
r0life.exe
rator.exe
rsrtd12.exe
rtfme.exe
safe.exe
snowif.exe
sycre.exe
test.exe
timem.exe
w32-reno-c.exe
warsddd_w.exe
wefgetn_00.exe
wergfq.exe
wined.exe
winlogoff.exe
wqefqw7e.exe
wrcud12.exe
wrfwe_di.exe
wwautrsd.exe
wwwsssgen.exe
taskmgr.dll
AntiVirus Studio 2010.lnk
How to Activate AntiVirus Studio 2010.lnk
Delete directories:
%UserProfile%Application DataAntiVirus Studio 2010
%UserProfile%Start MenuProgramsAntiVirus Studio 2010
About the author