AntiVirus System 2011. How to remove? (Uninstall guide)
AntiVirus System 2011 is a rogue security program promoted through the use of fake online anti-malware scanners and malicious websites but in some cases it comes bundled with other malware as well. Once installed, AntiVirus System 2011 will pretend to scan your computer for viruses. It will report that your computer is infected with Trojans, spyware and other viruses. AntiVirus System 2011 is a scam. It won't remove any infections form your computer simply because it's an actual virus itself. If you find that your computer is infected with this scareware, please use the removal instructions below to remove AntiVirus System 2011 from your computer as soon as possible. You can remove it manually but we strongly recommend to use automatic removal tool for AntiVirus System 2011 because there might be other malware on your computer as well.
While AntiVirus System 2011 is running, it will display fake security alerts, block legitimate security programs claiming that they are infected and hijack your web browser. Some of the fake security alerts are:
To help protect your computer, Security Center has blocked some features of this program.
Do you want to block this suspicious software?
Name: Screen.Grab.J.exe
Risk: High
AntiVirus System 2011 has its own security center. It claims that your antivirus software is not activated and that your computer is not protected against various security threats and attack from the Internet. This rogue program also hijacks web browsers and displays such fake message:
Reported Insecure Browsing: Navigation Blocked
Insecure Internet Activity. Threat of virus attack
Due to insecure Internet browsing your PC can easily get infected with viruses, worms, and trojans without your knowledge, and that can lead to system slowdown, freezes and crashes. Also insecure Internet activity can result in revealing your personal information.
As you can see, the main purpose of AntiVirus System 2011 is to scare you into thinking that your computer is infected with malware. If you have already purchased it then please contact your credit card company and dispute the charges. Then please follow the AntiVirus System 2011 removal instructions below.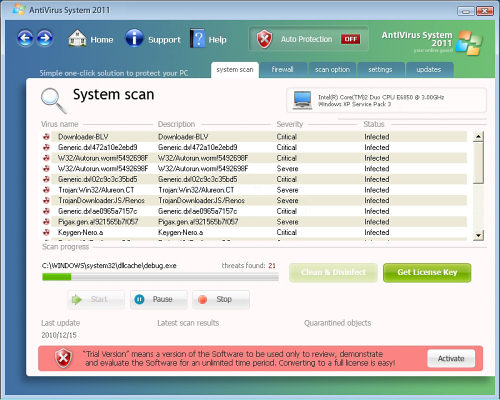 AntiVirus System 2011 manual removal:
Kill processes:
AntiVirus_System_2011.exe
securityhelper.exe
securitymanager.exe
Delete registry values:
HKEY_CURRENT_USERSoftwareAntiVirus System 2011
HKEY_CURRENT_USERSoftwareMicrosoftWindowsCurrentVersionRun "2kowmeuswvw3"
HKEY_CURRENT_USERSoftwareMicrosoftWindowsCurrentVersionRun "AntiVirus System 2011"
HKEY_CURRENT_USERSoftwareMicrosoftWindowsCurrentVersionRun "Security Manager"
HKEY_CURRENT_USERSoftwareMicrosoftWindowsCurrentVersionUninstallAntiVirus System 2011
Delete files:
AntiVirus_System_2011.exe
IcoActivate.ico
IcoHelp.ico
IcoUninstall.ico
securityhelper.exe
securitymanager.exe
AntiVirus System 2011.lnk
Delete directories:
%AppData%AntiVirus System 2011
About the author