Antivirus XP 2008. How to remove? (Uninstall guide)
removal by Julie Splinters
-
- Also known as
AntivirusXP 2008 Antivirus XP2008 AntivirusXP2008
| Type:
Spyware
Antivirus XP 2008 is a new rogue anti-spyware application that is advertised by malicious websites. Everything is very simple, when users come into site with rogue content it loads fake security warning about infection. After use click on any pop-up or add AntivirusXP 2008 will be downloaded and installed automatically. In some cases this parasite may be installed without user's permission. Notice that any web site cannot know what is running on your computer.
After Antivirus XP2008 embeds in to the computer it will display large amount of pop-ups with imaginary information about infections. And as a rule all these apparent infections can only be removed after user purchases a license. More AntivirusXP2008 can change a background of monitor into a scaring message stating you are infected. Even more parasite is able to fabricate browser page claiming that Google has found an infection on your computer. Isn't it funny that search engine looks up for the viruses? Of course all these notifications are only a scare tactics and should be ignored. We recommend you to get rid of it as soon as possible.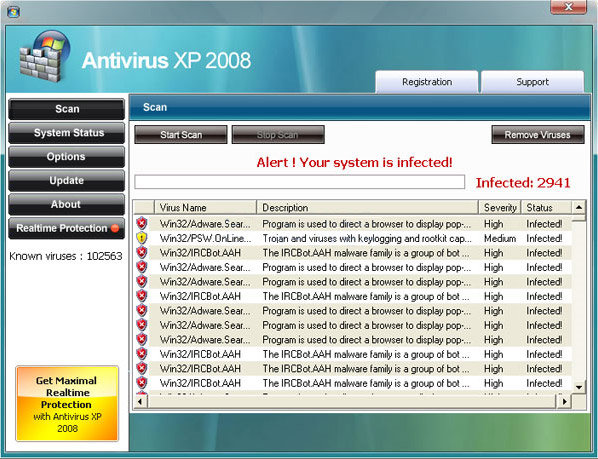 Antivirus XP 2008 manual removal:
Kill processes:
rhcnkrj0etfg.exe
Uninstall.exe
pphcjkrj0etfg.exe
Delete registry values:
HKEY_LOCAL_MACHINESOFTWARErhcnkrj0etfg
HKEY_LOCAL_MACHINESOFTWAREMicrosoftWindowsCurrentVersionUninstallrhcnkrj0etfg
HKEY_LOCAL_MACHINESOFTWAREMicrosoftWindowsCurrentVersion "rhcnkrj0etfg"
HKEY_LOCAL_MACHINESOFTWAREMicrosoftWindowsCurrentVersionInternet SettingsUser AgentPost Platform "AntivirXP08"
HKEY_LOCAL_MACHINESOFTWAREMicrosoftWindowsCurrentVersionRun "SMrhcnkrj0etfg"
Unregister DLLs:
qegbdmwf.dll
pntqkflv.dll
MFC71.dll
MFC71ENU.DLL
msvcp71.dll
msvcr71.dll
rhcnkrj0etfgSkin.dll
Delete files:
rhcnkrj0etfg.exe
Uninstall.exe
pphcjkrj0etfg.exe
qegbdmwf.dll
pntqkflv.dll
MFC71.dll
MFC71ENU.DLL
msvcp71.dll
msvcr71.dll
rhcnkrj0etfgSkin.dll
Antivirus XP 2008.lnk
About the author