APC Protect. How to remove? (Uninstall guide)
APC Protect is a program which will try to make you waste your money, so please be aware and do not deal with this scam. APCProtect is known to be promoted through deceptive online scanners or browser hijackers that all redirect victims to the malicious websites. On those domains, people are showed misleading security messages, usually bringing doubts are their PCs safe or not. Do not click on any link because the trialware of APC Protect will be downloaded just after doing that.
Like many other its "colleagues", this scam will enter your computer unrecognized without asking any question. APCProtect starts with making Operating System to run its executable file apcprotect.exe with a reason to cause chaotic activity everytime people log into Windows. Victims are completely flooded by its fake system scanners, reporting about unreal infections found and various pop-up ads or system tray notifications. Just like its scanners, all the alerts produced by APC Protect are false. This rogue anti-spyware acts in such a way only to create a reason to buy its so called "licensed" version. In reality it is incapable to detect and delete any spyware and must be eliminated once after being caught.
Before you take any infection spotted by APC Protect serious, please scan your computer with a reputable security program. Keep in mind that only this scam must be deleted from your computer as soon as detected, so please use instructions written below and delete APC Protect.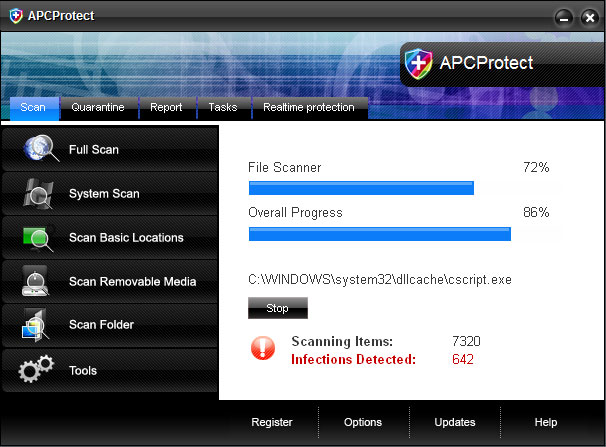 APC Protect manual removal:
Kill processes:
APCProtect.exe
uninstall.exe
10259woz5769.exe
106z0spam9ot55a.exe
3118dz9nload5r1570.exe
Unregister DLLs:
31327trzj559.dll
1085z9y559.dll
Delete files:
APCProtect.lnk
1 APCProtect.lnk
2 Homepage.lnk
3 Uninstall.lnk
APCProtect Software
APCProtect.exe
uninstall.exe
.exe

10259woz5769.exe

10494vzru597.bin

106z0spam9ot55a.exe

1085z9y559.dll

3118dz9nload5r1570.exe

31327trzj559.dll

315329ot-z-5irus22.cpl




About the author