APcDefender. How to remove? (Uninstall guide)
APcDefender (also called as APc Defender) is a rogue anti-spyware, a total scam that comes from the WiniGuard family of rogues. WiniGuard unexpectedly has released something different and this time distributes only German, French and Italian variants of APcDefender. However, though in the other languages, this parasite is classically promoted and installed with a help of Trojans that come camouflaged under the names of video codecs or flash updates. APcDefender is configured to start automatically, so immediately after infiltration it starts using the classic malicious steps aimed to steal the money from unaware PC users.
The same Trojan that is to blame for installing APcDefender creates a whole bunch of fake random files with various names. They are dropped in the System32 directory and later foolishly detected as malware. Apc Defender insists to pay for its "full" version if the victim wants to get rid of all the files reported as infections found. Don't pay because it is an obvious scam, therefore the program only imitates scanning the system for malware and detects only its earlier invented infections. In reality, these files are harmless and MUST be ignored instead of being removed from the system.
Apc Defender also interrupts with fake security alerts and displays misleading messages trying to make PC users think it is worth being purchased. These alerts inform about active malware and malicious attacks that send sensitive data to a current location:
"Spzprogramm Warnzeichen!
Ihr Computer ist mit Spionprogramm infektioniert. Das kann Ihren Dateien und die im Internet zugänglich machen. Klicken bitte hier, um Ihre Kopie von APcDefender zu registrieren und Ihr PC von Spyprogramm frei zu machen"
In English translated text would read:
"Spyware Alert!
Your computer is infected with spyware. It could damage your critical files or expose your private data on the Internet. Click here to register your copy of BlockProtector and remove spyware threats from your PC."
Fake Windows Security Center screen is also displayed for the user seeking to suggest purchasing APcDefender as the only security application capable to eliminate all these problems announced. However, there is no doubt that APcDefender is the one that needs to be eliminated. Just like its scanning results, security notifications should be also ignored because they seek only to mislead you into giving your money away. Don't pay for this malware and delete all the files and APcDefender as soon as possible!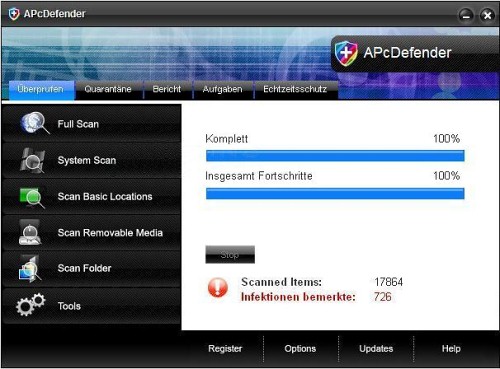 APcDefender manual removal:
Kill processes:
APcDefender.exe
10040spz5229.exe
10134noz5a-viru93b5.exe
22929zpa5bot57e.exe
[random].exe
Delete files:
APcDefender.exe
main_config.xml
uninstall.exe
10040spz5229.exe
10134noz5a-viru93b5.exe
10658not-a-vir9s7z25.ocx
22813virus9fz5.bin
22929zpa5bot57e.exe
22988spambzt58c9.cpl
[random].exe
APcDefender.lnk
1 APcDefender.lnk
2 Homepage.lnk
3 Uninstall.lnk
About the author