APcSecure. How to remove? (Uninstall guide)
APcSecure is not a legitimate program. It's a rogue anti-spyware application that spreads with the help of Trojans that pretend to be useful programs, flash updates or malware removal tools. Trojans usually come from fake online scanners and bogus online video websites. Once installed, a Trojan virus downloads additional files and installs APcSecure virus. It modifies Windows registry and configure the rogue program to start automatically each time you log on into Windows. While active, APc Secure will supposedly scan your PC for malware and list numerous infections that should be removed immediately but unfortunately you can't do that unless you first purchase it. At this point, be very careful. This is nothing more but a scam. APcSecure detects harmless files as infections or just simply displays non-existing PC threats.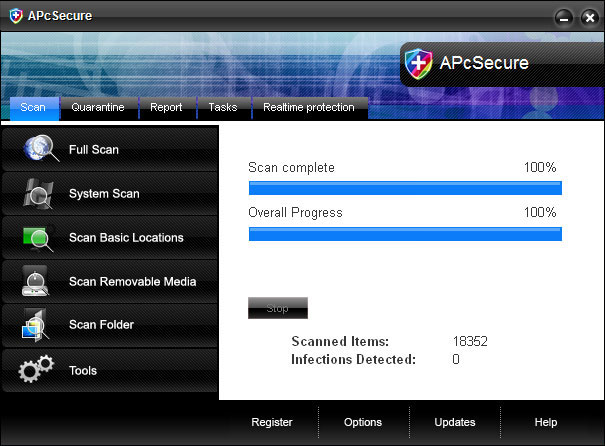 [Figure 1. APcSecuregraphical user interface]
To make the situation more complicated, APc Secure will displays very irritating and obviously fake security alerts like every one or tow minutes. A typical fake security alert from the rogue programs of Winisoft family reads:
Spyware Alert!
Your computer is infected with spyware. It could damage your critical files or expose your private data on the Internet. Click here to register your copy of APcSecure and remove spyware threats from your PC.
APcSecure displays the same notification too. What is more, it impersonates Windows Security Center and informs you that you should purchase the program in order to removed infections and to ensure full system protection. However, the biggest problem is that this virus comes with more complicated malware that's why we don't recommend manual removal. Of course, you can removed the main directories and files of this virus, but after all you must still scan your PC with a legitimate anti-spyware application to remove the remains. More detailed removal instructions and removal tool are provided below. Please read the removal instructions carefully and remove APcSecure from your computer upon detection. If you have inadvertently purchased it, contact your credit card company and dispute the charges.
Apcsecure.com is a home page of this malware, please avoid that website.
APcSecure manual removal:
Kill processes:
APcSecure.exe
Delete registry values:
HKEY_CURRENT_USERSoftwareAPcSecure
HKEY_LOCAL_MACHINESOFTWAREAPcSecure
HKEY_LOCAL_MACHINESOFTWAREMicrosoftWindowsCurrentVersionUninstallAPcSecure
HKEY_LOCAL_MACHINESOFTWAREMicrosoftWindowsCurrentVersionRun "APcSecure"
Delete files:
APcSecure.exe
main_config.xml
quarantine.xml
always_delete.xml
always_skip.xml
uninstall.exe
APcSecure.lnk
1 APcSecure.lnk
2 Homepage.lnk
3 Uninstall.lnk
Delete directories:
C:Program FilesAPcSecure Software
C:Documents and SettingsAll UsersStart MenuProgramsAPcSecure
About the author