App Bud adware. How to remove? (Uninstall guide)
App Bud may display annoying advertisements and make your browsing experience miserable. Developers of this program (Super Web LLC) are promoting it as a tool that should help you to save money and time while buying items online. Sadly, that is just another deception that is used in order to distribute this questionable program. Because of these reasons, App Bud is labeled as an adware and a potentially unwanted program (PUP). In fact, this program may negatively affect your browser and even make it work more slowly. No matter what browser you use (Internet Explorer, Google Chrome, Mozilla Firefox, etc.), this pesky adware may affect them all. If you ignore App Bud ads, you should be fine. However, if you decide to click ads that this potentially unwanted program may display, there is no telling where you may get redirected.
How can App Bud hijack my computer?
As the majority of freeware, App Bud virus has its download page. So, it is very easy to download this adware. However, sometimes this dubious program may enter your computer very silently and make your internet browser unbearable. App Bud ads may flood your screen right after installing a freeware from a doubtful download website. That is why you need to avoid downloading unfamiliar toolbars, extensions and plug-ins for your browser. In fact, freewares are usually supported by advertising or they travel bundled with ad-supported attachments. That is how developers of such programs are making money. If you do not want to be a victim of such annoying adware, you should protect your computer by any means. Always check what programs you install and if these programs are safe enough to use. In order to do so, you should read end-user license agreement (EULA) part and find as much information as possible. Besides, try not to rush the installation process of unfamiliar programs because you can easily overlook and install App Bud virus.
How to remove App Bud adware from my PC?
Removing this potentially unwanted program is the easy part. The hardest part is protecting your computer from similar (or even more dangerous) cyber threats. In order to avoid App Bud redirects, you just need to follow these guidelines and get rid of this pesky intruder. By the way, we also recommend using a reliable security tool that will guard your computer against unwanted intruders.
Remove App Bud from your computer:
1. Click Start → Control Panel → Uninstall a Program.
2. When in the Add/Remove Programs/Uninstall a Program, look for recently installed/unfamiliar applications, such as App Bud or similar unfamiliar entries.
3. Click 'Uninstall' and then OK to save the changes.
Remove App Bud extension from your browsers (Internet Explorer, Mozilla Firefox, and Google Chrome):
Internet Explorer:
1. Open Internet Explorer, go 'Tools' → 'Manage Add-ons' → 'Toolbars and Extensions'.
2. Here, look for unfamiliar entries, such as App Bud and click 'uninstall'.
3. Once you remove it, change your start page.
Reset your Internet Explorer (Optional):
1. Open Internet Explorer, click the Gear icon or 'Tools' → 'Internet Options'.
2. Here, go to the 'Advanced' tab and click the 'Reset' button.
3. Go to the 'Reset Internet Explorer settings' → 'Delete personal settings' and click on 'Reset' option.
4. Finally, click 'Close' and OK to save the changes.
Mozilla Firefox:
1. Open Mozilla Firefox, go 'Tools' → 'Add-ons' → 'Extensions'.
2. Find suspicious-looking entries, such as App Bud and click 'Uninstall'.
3. After that, change the start page.
Reset your Mozilla Firefox (Optional)
1. Open Mozilla Firefox, go to the 'Help' section → 'Troubleshooting Information'.
2. Here, choose a 'Reset Firefox' for a couple of times and 'Finish'.
Google Chrome:
1. Click the Chrome menu button on the Google Chrome browser, select Tools → Extensions.
2. Here, look for unfamiliar extensions like App Bud and get rid of them by clicking on the Recycle Bin.
3. Don't forget to change start page.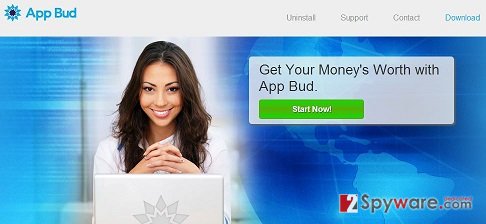 About the author