Arma dei Carabinieri virus. How to remove? (Uninstall guide)
Arma dei Carabinieri virus is a dangerous ransomware, which can easily infiltrate those computers that belong to users from Italy. As soon as it does that, virus locks down the machine and informs its victim that he/she was noticed for illegal online activities, such as the use of copyrighted content or distribution of pornographic material. Just like previous versions of Arma dei Carabinieri virus, it does that for scaring its users and making them pay the fine of 100 euro. Please, never agree with that because you will finally find out that you were tricked by cyber criminals. Arma dei Carabinieri virus doesn't represent any governmental authority, so you can safely remove this ransomware from your computer. If you are blocked from launching your anti-spyware, read the following guide and fix your machine.
HOW CAN I GET INFECTED WITH Arma dei Carabinieri virus?
Arma dei Carabinieri virus is spread by Trojan, which is known as Trojan.lockscreen. When trying to infiltrate its target computer, this virus exploits security vulnerabilities that appear when users forget to update their security software. Once it gets inside, it downloads malicious files and also blocks the whole PC's system. As a result, Arma dei Carabinieri virus starts showing its fake warning that reports about various user's crimes. It looks like that:
ATTENZIONE! Il Suo computer personale è stato bloccato per motive di sicurezza per le seguenti ragioni.
(…)
La multa deve essere pagata da Lei entro 48 ore dopo la violazione. Una volt ache le 48 ore sono trascorse, per ulterior 48 ore saranno raccolte automaticamente le informazioni complete su di Lei, e Lei te sará perseguito.(…)
La dimensione della Sua multa è 100€. La multa si può pagare con l'aiuto dei voucher PaySafeCard oppure Ukash.
Please, do NOT believe this notification and do NOT pay the fine! We highly recommend ignoring this alert because it is used by cyber criminals for the only thing – to swindle your money. If you want to unblock your PC and remove Arma dei Carabinieri virus, follow this guide:
HOW TO REMOVE Arma dei Carabinieri virus?
If your PC is blocked by Arma dei Carabinieri virus, try to reboot your PC to Safe Mode with Networking or Safe Mode with Command Prompt when trying to unblock your computer. In addition, follow these steps:
* Flash drive method:
1. Take another machine and use it to download Reimage or other reputable anti-malware program.
2. Update the program and put into the USB drive or simple CD.
3. In the meanwhile, reboot your infected machine to Safe Mode with command prompt and stick USB drive in it.
4. Reboot computer infected with Arma dei Carabinieri virus once more and run a full system scan.
* Manual Arma dei Carabinieri virus removal:
Reboot you infected PC to 'Safe mode with command prompt' to disable Ukash virus (this should be working with all versions of this threat)
Run Regedit
Search for WinLogon Entries and write down all the files that are not explorer.exe or blank. Replace them with explorer.exe.
Search the registry for these files you have written down and delete the registry keys referencing the files.
Reboot and run a full system scan with updated Reimage to remove remaining virus files.
If you can't reboot to Safe Mode with Networking, try these options:
* Users infected with Arma dei Carabinieri virus are allowed to access other accounts on their Windows systems. If one of such accounts has administrator rights, you should be capable to launch anti-malware program.
* Try to deny the Flash to make your ransomware stop function as intended. In order to disable the Flash, go to Macromedia support and select 'Deny': http://www.macromedia.com/support/documentation/en/flashplayer/help/help09.html. After doing that, run a full system scan with anti-malware program.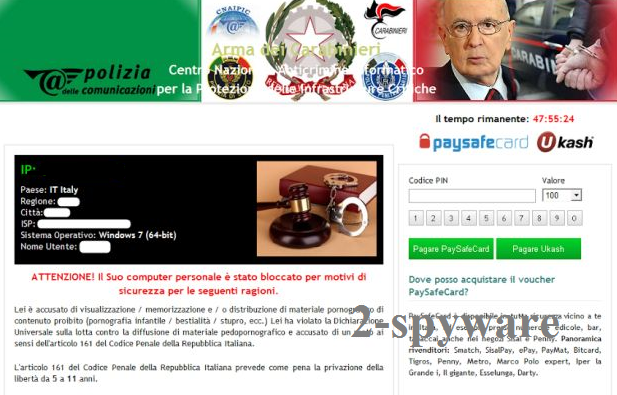 Arma dei Carabinieri virus manual removal:
Kill processes:
[random].exe
Delete files:
[random].exe
About the author