Atención! Su navegador ha sido bloqueado. How to remove? (Uninstall guide)
removal by Olivia Morelli
-
- Also known as
Grupo de Delitos Telematicos virus, Ukash virus, Police virus
| Type:
Ransomware
'Atención! Su navegador ha sido bloqueado' is a fake notification, which can appear on Internet Explorer, Mozilla Firefox, Safari, Google Chrome and any other browser. If you see it, it means that you have a deal with the browser-based ransomware, which seeks to scare you and make you pay an invented fine. In most of the cases, people are blocked by 'Atención! Su navegador ha sido bloqueado' when trying to visit illegal sites that offer downloading music or video copies for free. However, noone can guarantee that you won't notice this fake alert on your browser when browsing on the Internet without having an intention to download files on your computer. If you know what we are talking about, you must remember that you must never pay this invented fine, which is typically asked for various law violations. In stead of that, you should scan your computer with reputable anti-spyware and remove this ransomware virus, which is also known as Grupo de Delitos Telematicos virus.
How can 'Atención! Su navegador ha sido bloqueado' appear on my computer?
'Atención! Su navegador ha sido bloqueado' is mostly caused by a malicious javascript code, which is set to block the browser. As soon as victim enters the website, it starts seeing a huge alert that fails to close. Of course, it looks like it belongs to a serious governmental authority, so there are hudreds of people who have already been tricked by this ransomware. Here is an example of 'Atención! Su navegador ha sido bloqueado' message. Be sure to ignore it.
¡ATENCIÓN! Su navegador ha sido bloqueado por razones de seguridad vistos los motivos abajo detallados.
Se han registrado todas las actividades de este equipo. Todos los archivos están cifrados.
Usted está acusado de mirar/conservar y/o divulgar los materiales pornográficos del contenido prohibido (Pornografía infantil/Zoofilia/Violación etc.). Usted ha infringido la Declaración mundial de la lucha contra la divulgación de la pornografía infantil y está acusado de cometer el crimen en razón al Artículo 161 del Código Penal del Reino de España.
El artículo 161 del Código Penal del Reino de España prevé a titulo de punición la encarcelación por el plazo desde 5 hasta 11 años.
Además, usted es sospechoso de la violación de la "Ley de los derechos de autor y adyacentes" (descarga de música pirata, video, soporte lógico sin licencia) y uso y/o divulgación del contenido defendido por el derecho de autor. Con eso usted es sospechoso de la infracción del Artículo 148 del Código Penal del Reino de España.
(…)
Usted tiene que pagar la multa en un plazo de 48 horas desde al momento de la infracción. Una vez pasadas las 48 horas, y durante las 48 horas consecutivas serán realizada una recopilación de la información complete de usted y contra usted será instruida una causa criminal.
El monto de su multa es de €100 euros. La multa puede ser pagada con PaySafeCard o Ukash vouchers.
How to remove 'Atención! Su navegador ha sido bloqueado'?
If your browser is affected by 'Atención! Su navegador ha sido bloqueado', we are sure that you can't close it and launch your anti-malware. In order to get this ability, you should follow these instructions:
Open Windows Task Manager by clicking Ctrl+Alt+Del or Ctrl+Shift+Esc.
Now open the Processes tab and choose 'Show processes from all users'.
Find your browser's process and left-click on it. If you were using Internet Explorer, then cancel iexplore.exe, Mozilla Firefox – firefox.exe, Google Chrome- chrome.exe, Safari – safari.exe, Opera – opera.exe.
Now click 'End Process' button and don't forget to confirm that you really want to do it.
Once you close your affected browser, download one of these programs: Reimage, Malwarebytes Malwarebytes or Plumbytes Anti-MalwareNorton Internet Security. Don't forget to update them before running a full system scan.
Alternate Software
We have tested Plumbytes Anti-Malware's efficiency in removing Atención! Su navegador ha sido bloqueado (2014-01-21)
We have tested Malwarebytes's efficiency in removing Atención! Su navegador ha sido bloqueado (2014-01-21)
We have tested Hitman Pro's efficiency in removing Atención! Su navegador ha sido bloqueado (2014-01-21)
We have tested Malwarebytes's efficiency in removing Atención! Su navegador ha sido bloqueado (2014-01-21)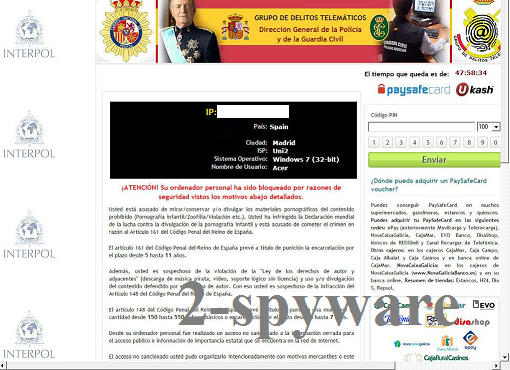 About the author
Removal guides in other languages