Atentie! Browser Dvs este blocat. How to remove? (Uninstall guide)
'Atentie! Browser Dvs este blocat' is a totally misleading message, which seeks to make people give their money away. For that, it reports about various online crimes and asks to pay a fine of 300 RON. If you see this warning message on your computer's screen, be sure that it doesn't have anything related to your local Police or other governmental authority. In reality, it's just a browser-based ransomware, which belongs to hackers. In fact, it's almost an identical copy of Ministerul Afacerilor Interne virus, which was spreading around some time ago. The most annoying thing about this virus is that it can block the browser so that you wouldn't be capable of closing it or opening a new tab. In order to know how to solve this issue, you continue reading..
How can 'Atentie! Browser Dvs este blocat' appear on my computer?
'Atentie! Browser Dvs este blocat' doesn't need any trojan horse when it needs to infiltrate computers. It just needs to make its victims visit a compromised website, which is filled with the malicious javascript code. For that, this ransomware uses misleading pop-up ads and notifications that may show up for you out of nowhere. As soon as people are tricked to click on the ad, they are redirected to a site that blocks the browser and starts showing such warning:
ATENȚIE!
Browser Dvs este blocat din motivele de securitate specificate mai jos.
Toate activitățile de acest computer au fost înregistrate.
Toate fișierele sunt criptate.
Dvs sunteți acuzat(ă) de vizualizare/stocare și/sau distribuire a materialelor pornografice cu conținut interzis (Pornografie infantilă/Zoofilie/Violare, etc.). Dvs ați încălcat Declarația Mondială de combatere a distribuirii pornografiei infantile. Dvs sunteți acuzat(ă) de comiterea infracţiunii prevăzute de Articolul 161 din Codul Penal al României.
(…)
Amenda urmează să fie achitată în decurs de cel mult 48 de ore din momentul săvârșirii infracţiunilor. De îndată ce expiră 48 de ore, expiră și posibilitatea de plată a amenzii, și în următoarele 48 de ore, va începe colectarea automată a informaţiilor cu privire la infracţiunile săvârșite de către Dvs, și, împotriva Dvs va fi intentată o acţiune penală.
Valoarea amenzii este de RON 300 lei românești. Dvs puteți să achitați această amendă cu ajutorul voucherului bănesc PaySafeCard sau Ukash. După achitarea amenzii, browser Dvs va fi deblocat și toate informațiile vor fi decriptate în decurs de 24 de ore din momentul trecerii banilor în contul Statului.
Please, ignore 'Atentie! Browser Dvs este blocat' because it's just a Romanian ransomware, which seeks to swindle people's money. It has nothing to do with the Police or other governmental authority, which is mentioned on this fake warning message, so you should follow a guide below and remove it from the system.
How to remove 'Atentie! Browser Dvs este blocat'?
If 'Atentie! Browser Dvs este blocat' blocked your browser, you should kill its process by following these steps:
Open Windows Task Manager by clicking Ctrl+Alt+Del or Ctrl+Shift+Esc.
Now open the Processes tab and choose 'Show processes from all users'.
Find your browser's process and left-click on it. If you were using Internet Explorer, then cancel iexplore.exe, Mozilla Firefox – firefox.exe, Google Chrome- chrome.exe, Safari – safari.exe, Opera – opera.exe.
Now click 'End Process' button and don't forget to confirm that you really want to do it.
Once you close your affected browser, you should download, update and run a reputable anti-malware program. For that we recommend using Reimage, Malwarebytes Malwarebytes or Plumbytes Anti-MalwareNorton Internet Security.
Alternate Software
We have tested Plumbytes Anti-Malware's efficiency in removing Atentie! Browser Dvs este blocat (2014-01-22)
We have tested Malwarebytes's efficiency in removing Atentie! Browser Dvs este blocat (2014-01-22)
We have tested Hitman Pro's efficiency in removing Atentie! Browser Dvs este blocat (2014-01-22)
We have tested Malwarebytes's efficiency in removing Atentie! Browser Dvs este blocat (2014-01-22)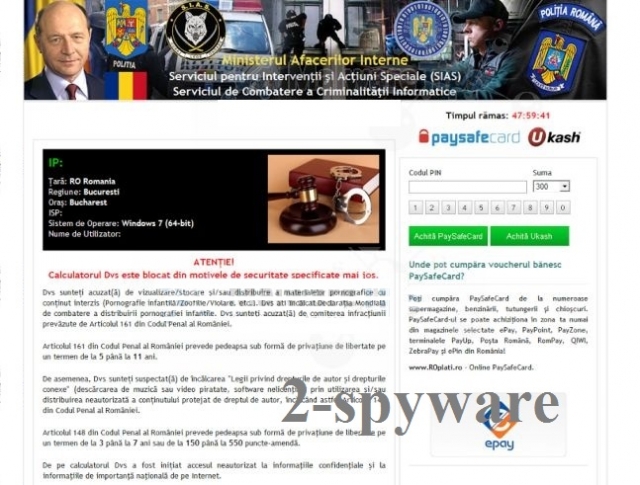 About the author