AVScanner.net. How to remove? (Uninstall guide)
Beware of malicious avscanner.net website because there you will find quite legitimately appearing scanner which in reality is fake. Looking like Windows XP My Computer Window, this site displays a pop-up about some critical process activity found on the machine and then offers to check it for viruses.
Whether you click OK or simply click to leave this website, AVScanner additionally "performs" a scan of your system files and reports such scary looking malwares like W32.Benjamin.Worm. In fact, scanner and viruses are invented and such files may not even exist on your computer. No matter what you will click next, you will download "loadtraff" file which will let trialware of Malware Destructor 2011. This program is categorized as rogue anti-spyware, so you will have much trouble after getting it on board.
If you are having problems with AVScanner, you should get rid of it immediately, so follow the removal guide written below.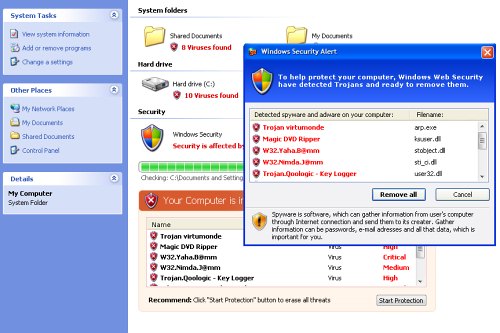 AVScanner.net manual removal:
Kill processes:
KB1883574.exe
Delete registry values:
HKEY_CURRENT_USERSoftwareMalware Destructor Inc
HKEY_CURRENT_USERSoftwareMicrosoftWindowsCurrentVersionUninstallMalware Destructor
HKEY_CURRENT_USERSoftwareMicrosoftWindowsCurrentVersionRun "KB1883574.exe"
Delete files:
%UserProfile%Application Data


%UserProfile%Application Dataenemies-names.txt

%UserProfile%Application DataKB1883574.exe

%UserProfile%Application Datalocal.ini

%UserProfile%Application DataMicrosoftInternet ExplorerQuick LaunchMalware Destructor.lnk

%UserProfile%DesktopMalware Destructor.lnk

%UserProfile%Start MenuMalware Destructor.lnk

%UserProfile%Start MenuProgramsMalware Destructor

%UserProfile%Start MenuProgramsMalware DestructorMalware Destructor.lnk

%UserProfile%Start MenuProgramsMalware DestructorUninstall.lnk

%UserProfile%Start MenuProgramsStartupMalware Destructor.lnk



For Windows 2000 and Windows XP %UserProfile% refers to the C:Documents and Settings folder, for Windows Vista or Windows 7 folder is C:Users


About the author