Avtiviruspower.com. How to remove? (Uninstall guide)
Avtiviruspower.com is a browser hijacker sponsored by malicious security application Antispyware Soft. Avtiviruspower.com is mostly visited unexpectedly when fake warnings, pop-up advertisements or fraudulent websites promoting the scam are clicked on. In truth, trojan hijackers are the ones that cause these deliveries, so it's important to scan computer with a good anti-spyware after you find yourself on Avtiviruspower.com or some other related websites.
As it was mentioned earlier, Avtiviruspower.com is closely related to Antispyware Soft program which is among the top rated most dangerous rogue anti-spywares. It is designed for the commercial reasons only, so malware usually imitates scanning the system for viruses and later asks the money for these "detections" removal. Antispyware Soft shows tons of fake system scanners, alerts and notifications trying to convince its victims and sell "full", "licensed" or whatever it's called version. When delivered to Avtiviruspower.com domain, people also see advertisements pushing them into buying Antispyware Soft as legitimate antispyware. Program is promised to remove all the malware detected though in reality the basic idea of such websites is to become just one more place where victims get brainwashed into purchasing rogueware.
The best recommendation we can give you in case of Avtiviruspower.com hijacker infection is to remove the trojans that have been causing unexpected redirections. Also, check your computer for Antispyware Soft rogue which may have sneaked inside without your knowledge. Run a full system scan and delete Antispyware Soft with its malicious browser hijacker Avtiviruspower.com.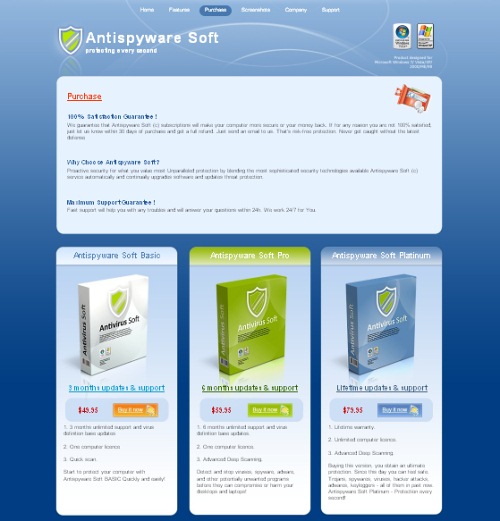 Avtiviruspower.com manual removal:
Delete files:
%Documents and Settings%[UserName]Local SettingsApplication Data[random string][random string].exe
%Documents and Settings%[UserName]Local SettingsApplication Data[random string][random string]tssd.exe
About the author