AWM Antivirus. How to remove? (Uninstall guide)
AWM Antivirus is a rogue antivirus program from the same family as A-Fast Antivirus. This fake program is advertised through the use of Trojans and fake online scanners that display alerts claiming that your computer is infected with malware. Once installed, AWMAntivirus will pretend to scan your computer for malware and then display results claiming that your PC is infected with viruses, spyware, adware and Trojans. The infected files will not be removed until you purchase the program. But you shouldn't pay for it because AWM Antivirus reports false system security threats and non-existent malware files on your computer. It just wants to scare you into thinking that your computer is infected and trick you into purchasing rogue anti-virus product. It goes without saying that you have to remove AWM Antivirus from your computer upon detection. Please use our removal guide below.
While this fake program is running, it will display fake security alerts and pop-ups from the Windows task manager. Some of those fake security alerts read:
Critical System Warning!
Your system is probably infected with a version of Trojan-Spy.HTML.Visafraud.a. This may result in website access passwords being stolen from Internet Explorer, Mozilla Firefox, Outlook etc. Click Yes to scan and remove threats (recommended).
AWM Antivirus will also hijack Internet Explorer and block legitimate anti-spyware and anti-virus programs to protect itself from being removed. The home page of this fake program is awm-antivirus.com. Please don't visit that website. Users with infected computers will be redirected to that site very often to purchase the program. As you can see, this program is nothing more but a scam. Remove AWM Antivirus virus from your computer as soon as possible either manually or with an automatic removal tool. If it blocks malware removal tools and you can't run task manager or registry editor you can use on the activations codes listed below to active the rogue program. Then you should be able to download and run an automatic removal tool.
Activation codes:
B0B302F772
C197C46C46
B20C1467B7
041E4B235A
25CCCC7329
9926220EED
A58EC19D33
C15F2FF276
F61E370D62
DDAD6A7A2C
9F8122FE00
3754DD9DA6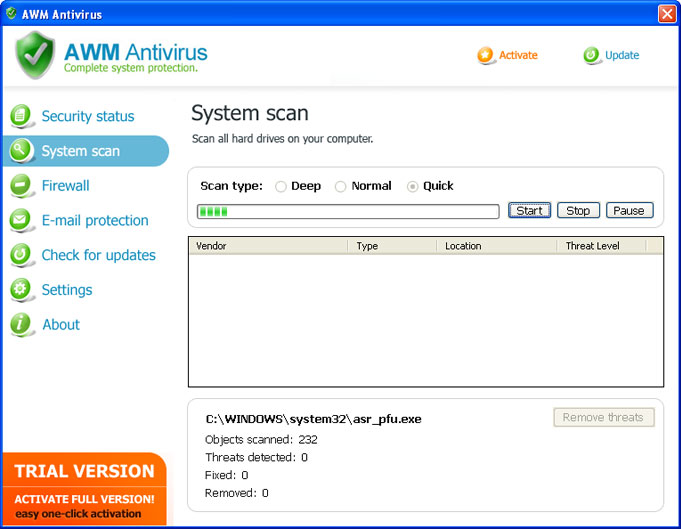 AWM Antivirus manual removal:
Kill processes:
AWM.exe
Delete registry values:
HKEY_CURRENT_USERSoftwareAWM
HKEY_CURRENT_USERSoftwareMicrosoftWindowsCurrentVersionRun "awm"
HKEY_CURRENT_USERSoftwareMicrosoftWindowsShellNoRoamMUICache "AWM Antivirus"
HKEY_LOCAL_MACHINESYSTEMControlSet001ServicesSharedAccessParametersFirewallPolicyStandardProfileAuthorizedApplicationsList "C:Documents and SettingsUserApplication DataAWMAWM.exe:*:Enabled:awm"
Delete files:
AWM.exe
Delete directories:
C:Documents and SettingsUserApplication DataAWM
About the author