Backdoor.Win32.Hupigon. How to remove? (Uninstall guide)
Backdoor.Win32.Hupigon is a computer threat reported by the rogue anti-spyware application called Windows Antivirus Pro. This bogus software claims that Internet Explorer is probably injected with worm Backdoor.Win32.Hupigon.fixn.he fake warning reads:
"Windows Antivirus Pro
Windows Antivirus Pro has denied
internet access of the program.
Internet Explorer is possible injected with worm Backdoor.Win32.Hupigon.fixn. This worm
attempts to send your personal information to remote host thought Internet Explorer."
You must remove Windows Antivirus Pro, otherwise this fake alert will pop up again each time you open Internet Explorer. Likely, your computer is not infected with Backdoor.Win32.Hupigon, but it is definitely infected with malware. Please use the removal guide below to remove Windows Antivirus Pro from your computer manually for free.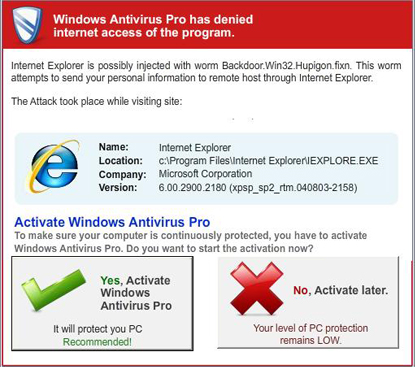 Backdoor.Win32.Hupigon manual removal:
Kill processes:
Windows Antivirus Pro.exe
ANTI_files.exe
dbsinit.exe
svchast.exe
desot.exe
Delete registry values:
HKEY_CURRENT_USERSoftwareSoftimer
HKEY_CURRENT_USERSoftwareWindows Antivirus Pro
HKEY_CLASSES_ROOTCLSID{425882B0-B0BF-11CE-B59F-00AA006CB37D}
HKEY_CLASSES_ROOTCLSID{F54AF7DE-6038-4026-8433-CC30E3F17212}
HKEY_LOCAL_MACHINESOFTWAREMicrosoftWindowsCurrentVersionExplorerBrowser Helper Objects{F54AF7DE-6038-4026-8433-CC30E3F17212}
HKEY_LOCAL_MACHINESOFTWAREMicrosoftWindowsCurrentVersionUninstallWin Antivirus Pro
HKEY_LOCAL_MACHINESYSTEMControlSet001ServicesAntipPro2009_12
HKEY_LOCAL_MACHINESYSTEMCurrentControlSetServicesAntipPro2009_12
Unregister DLLs:
msvcm80.dll
msvcp80.dll
msvcr80.dll
dddesot.dll
Delete files:
Desktop\\Windows Antivirus Pro.lnk
ANTI_files.exe
msvcm80.dll
msvcp80.dll
msvcr80.dll
Windows Antivirus Pro.exe
dbsinit.exe
wispex.html
i1.gif
i2.gif
i3.gif
j1.gif
j2.gif
j3.gif
jj1.gif
jj2.gif
jj3.gif
l1.gif
l2.gif
l3.gif
pix.gif
t1.gif
t2.gif
up1.gif
up2.gif
w1.gif
w11.gif
w2.gif
w3.gif
w3.jpg
wt1.gif
wt2.gif
wt3.gif
ppp3.dat
ppp4.dat
svchast.exe
bennuar.old
dddesot.dll
desot.exe
sysnet.dat
About the author