Backoff virus. How to remove? (Uninstall guide)
Backoff is a malicious computer infection that is capable of connecting to computers using remote control servers and stealing confidential data, such as credit card details, passwords, and similar. It is frequently referred to as a Trojan.Backoff and classified as a Trojan. However, to be more precise, it should be attributed to the 'Carding' category of cyber threats. The emergence of this virus is associated with an increased number of remote employees.
What is Backoff and how does it work?
Backoff virus stems from the family of PoS malware. It has been discovered in the summer of 2014. Its has three variants, including 1.4, 1.55 ("backoff", "goo", "MAY", "net"), and 1.56 ("LAST") that have been recorded lately. Counting from the beginning of its emergence, Backoff malware has affected a numerous of business, specifically banks. However, it seems that it can also inject into private sectors and affect citizens separately. In total, it has already affected over 1.000 businesses in the US and disclosed thousands of credit card details to cyber frauds.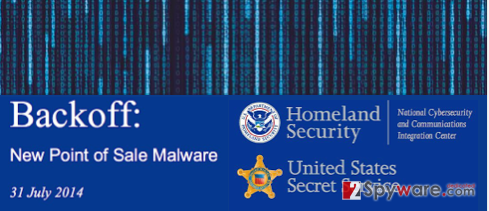 According to the malware studies, Backoff is targeting computers running remote desktop tools (Microsoft's Remote Desktop, Apple Remote Desktop, Chrome Remote Desktop and LogMEIn) that let people easily connect different machines all across the web. Backoff performs a research on the net by exploiting technical details and detecting computers that run remote desktop tools. After that, it starts exploiting vulnerabilities and trying to infiltrate the PC using phishing. It means that Backoff virus can be executed right after clicking on the infected link or simply running on a compromised website. Once the malware is activated, it gets the ability to deploy the point-of-sale (PoS) and absorb payment data via an encrypted POST request.
In a nutshell, the principle of this Backoff malware is simple. It seeks to infect computers that receives credit card payments at retailers, looks for the unencrypted card data and send gathered information back to the criminals. It goes without saying that Backoff can have serious consequences. Therefore, it's very important to ensure the security of the computers that are remotely accessible.
About the author