Badware Exterminator. How to remove? (Uninstall guide)
Badware Exterminator (or BadwareExterminator) is a fake security application that will definitely become unwanted once after being installed. In other words, Badware Exterminator will annoy to death with its fake system scanners and pop-up ads about non-existent cyber threats. This malware is programmed only to deceive PC users into purchasing its commercial version which is nothing else but a useless security tool.
BadwareExterminator is highly promoted on malicious Internet sources. Because of being installed only in a manual way, this rogue anti-spyware, also featuring a fake optimization program, is promoted by its "official websites" badwareexterminator.com or badware-exterminator.net. There, PC users are misleadingly advertised that they have a possibility to install an automatic email scanner, unsafe Internet connections blocker and etc.
In addition, Badware Exterminator trends to act in the same way just like many other its relative programs. Malware starts generating fabricated system scans which all report infections that aren't actually there. Tons of misleading system tray notifications, pop-up ads and messages are also normally displayed by Bardware Exterminator trying to make its victims scared. The use of such misleading techniques aims users to start looking a solution for fixing everything and removing all these "exposed" spyware. Undoubtedly, as the right malware remover to use only Badware Exterminator is recommended but keep in mind that it is definitely the opposite! It is definitely not the program which will help for your PC's functioning, so please, don't fall into installing and then purchasing it! It is highly recommended using a reputable anti-spyware and removing Badware Exterminator as soon as possible.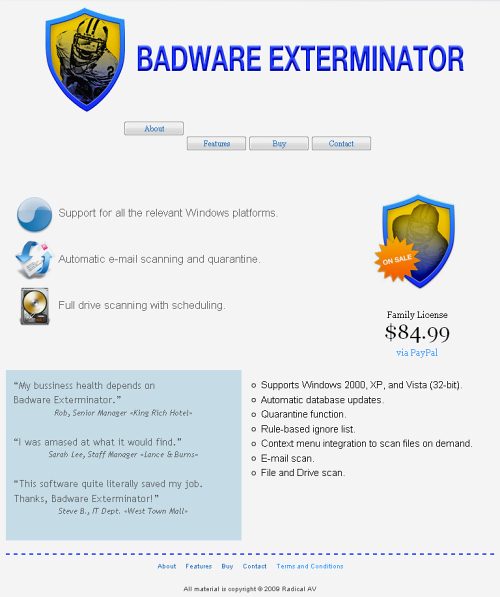 Badware Exterminator manual removal:
Kill processes:
Badware Exterminator.exe
Delete files:
Badware Exterminator.exe
Badware Exterminator.lnk
About the author