Best Antivirus Software. How to remove? (Uninstall guide)
Best Antivirus Software is a rogue anti-spyware application from the Win32/VirusDoctor scareware family. This rogue anti-spyware application is usually promoted via Trojans, hacked websites and other malware. Most of the time, the rogue program has to be manually installed, however in some cases it may enter the system with the help of trojan downloaders and software vulnerabilities. Once installed, Best Antivirus Software will perform a fake system scan and report a list of fake infections and computer security threats. These infections and computer security threats do not even exist on your PC. You can safely ignore them. However, the rogue program will ask you to pay for a full version of this fake program in order to remove supposedly found infections that we already know do exist in the first place. Don't pay for it. Further more, the rogue security program will display fake system notifications and security alerts claiming that your computer is under attack or badly infected with viruses, spyware and other malicious software.
System Alert
Advanced Antispyware Solution has detected pontentially harmful software in your system. It is strongly recommended that you register Advanced Antispyware Solution to remove all found threats immediately.
Warning! Virus detected
Threat Detected: Trojan-PSW.VBS.HalfDescription: This is a VBScript-virus. It steals user's passwords.
Last but not least, Best Antivirus Software may install additional malware on your computer. That's why we strongly recommend you to scan your computer with legitimate anti-malware software listed below.
As you can see, this software is not legitimate in any way. It's a scam designed to steal money from PC users. Don't purchase it and remove this bogus program from your computer as soon as possible. If you have purchased it, please contact your credit card company and dispute the charges. Then please use the removal guide below to remove Best Antivirus Software from your computer using an automatic removal tool. Please note, that Best Antivirus Software may block legitimate security software. That's why you must end its processes first. If you can't do that, then reboot your computer in Safe Mode with Networking. Download an automatic removal tool and run a full system scan.
There is an activation code which might help you to Stop numerous popups. Please enter this code: K7LY-H4KA-SI9D-U2FD on the activation menu. But you need to have in mind that this will not remove the infection. After the activation please use reputable anti-spyware program to scam the system and remove Total Anti Malware Protection. From the ones we can recommend are: Spyhuter, STOPzillaand Malware Bytes anti-malware.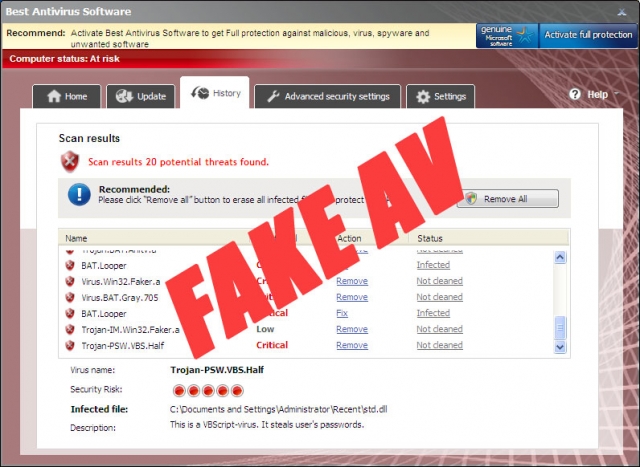 Best Antivirus Software manual removal:
Kill processes:
[RANDOM CHARACTERS].exe
Delete registry values:
HKEY....{Value}
HKEY_CURRENT_USERsoftwareMicrosoftWindowsCurrentVersionRunBest Antivirus Software = "%AllUsersProfile%Application Dataa2r3fqFPa1a_7294.exe" /s /d
HKEY_LOCAL_MACHINEsoftwaremicrosoftWindows NTCurrentVersionImage File Execution Options[RANDOM].exeDebugger = svchost.exe
HKEY_LOCAL_MACHINESOFTWAREMicrosoft..{RunKeys}
HKEY_CURRENT_USERSoftwareMicrosoftWindowsCurrentVersionPoliciesExplorerDisallowRun = 01000000
HKEY_CURRENT_USERSoftwareMicrosoftWindowsCurrentVersionPoliciesExplorerDisallowRun[1...15]
Delete files:
%AppData%Best Antivirus Software
%AppData%MicrosoftInternet ExplorerQuick LaunchBest Antivirus Software.lnk
%AllUsersProfile%Application Data[RANDOM CHARACTERS][RANDOM CHARACTERS]
%UserProfile%DesktopBest Antivirus Software
%UserProfile%Start MenuBest Antivirus Software
%UserProfile%Start MenuProgramsBest Antivirus Software.lnk
About the author