Bizigames.org pop-up virus. How to remove? (Uninstall guide)
removal by Jake Doevan
-
- Also known as
Bizigames.org virus, Bizigames.org ads
| Type:
Adware
What is Bizigames.org pop-up virus?
Bizigames.org pop-up virus is a suspicious browser extension, which is compatible with Internet Explorer, Google Chrome, Mozilla Firefox and other web browsers. No matter how harmless it looks, it should be avoided because all what it may start causing is annoying pop-up ads and redirects to affiliate websites. These activities can be initiated as soon as you start your browsing, so don't be surprised after discovering that each of your search sessions is interrupted. What kind of ads are caused by Bizigames.org virus? In most of the cases, it's various commercials and notifications about unbelievable prizes that can be received after clicking the ad and participating in some survey. Before you fall for that and enter your full name, telephone number or email address, you must realize that surveys is a great tool for collecting information. If you don't want to receive spammy emails and questionable messages, stay away from these offers. Besides, it seems that an extension that is responsible for showing Bizigames.org ads has also been filled with the capability to track people and collect information about their browsing habits. It may start tracking what sites you like the most, how much time do you spend there, what data do you enter, etc. In addition, such programs may also record your email address, PC's location, its IP address and similar information. Please, do NOT allow this! If you want to prevent the loss of your important information, you should remove this questionable browser extension. How can you remove Bizigames.org virus? The easiest way to do that is to scan the system with Reimage or other reputable anti-spyware.
How can Bizigames.org hijack my computer?
There are lots of discussions about Bizigames.org-related adwares distribution on the Internet. One thing is clear – people are mostly tricked into downloading them to their computers unintentionally. For protecting yourself, you should always have an updated anti-spyware installed on your computer. Unfortunately, but this is not the only thing that you should do. Keep in mind that you should also be very careful when installing freeware on your computer because there are thousands of free programs that have been involved to the distribution of Bizigames.org. For getting ability to see what is hiding in program that you want to install on your computer you should always opt for Custom or Advanced installation method. This method will clearly show you what 'optional components' are hiding inside. Please, opt out of these components by unchecking checkboxes that claim that you want to install them on your computer. If you think that you have just been tricked into downloading related adware that is now showing you annoying Bizigames.org ads, you should follow a guide below and fix your computer. Please, do NOT postpone this because any of these pop-up ads may try to redirect you to suspicious website or may trick you into downloading other suspicious programs to your computer. For eliminating potentially unwanted programs, adwares and browser hijackers, you should follow a guide below.
How to remove Bizigames.org virus?
Alternate Software
We have tested Malwarebytes's efficiency in removing Bizigames.org pop-up virus (2015-02-04)
We have tested Malwarebytes's efficiency in removing Bizigames.org pop-up virus (2015-02-04)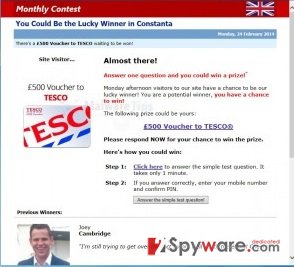 About the author