BrowseIgnite adware. How to remove? (Uninstall guide)
removal by Jake Doevan
-
- Also known as
BrowseIgnite virus, BrowseIgnite ads
| Type:
Viruses
BrowseIgnite is an ad-supported application that we recommend not to use. This questionable program is promoted as an addition for your browser that should make your browsing experience better and help you to find desired information faster. However, if you read BrowseIgnite terms of service part, you may notice something odd: "Browse Ignite is ad-supported. During general internet usage on sites where Browse Ignite operates, users may see additional banner, search, pop-up, pop-under, and in-text link advertisements. You will see approximately, between 1 and 5 banner advertisements per page, 1 and 4 search advertisements per page, 1-4 in-text advertisements per page, and 1-2 pop-up or pop-under ads per day. ". It looks like BrowseIgnite is yet another adware that may flood you with annoying advertisements.
How can BrowseIgnite hijack my computer?
Although the official website of this program may look quite legitimate, you should not fall for this deception and avoid downloading BrowseIgnite virus. Besides, we have noticed that this potentially unwanted program may rely on freewares for its distribution. Usually, in order to make money from advertising, various freewares and sharewares invoke such adwares into their download clients. What is more, even well-known and respectable download websites, such as download.com, softonic.com may be involved in distributing similar adwares. That is why we always recommend having a reliable anti-spyware program in order to block BrowseIgnite virus and similar intruders automatically.
How to remove BrowseIgnite adware from my computer?
Firstly, in order to prevent similar intruders in the future, you should be very careful and check every single program, which you want to install. Always unmark suspicious-looking attachments when installing unfamiliar freewares. If you fail to do that, you may experience BrowseIgnite redirects. If this dubious intruder is already hiding in your system, you just need to follow these simple guidelines.
Remove BrowseIgnite from your computer:
1. Click Start → Control Panel → Uninstall a Program.
2. When in the Add/Remove Programs/Uninstall a Program, look for recently installed/unfamiliar applications, such as BrowseIgnite or similar unfamiliar entries.
3. Click 'Uninstall' and then OK to save the changes.
Remove BrowseIgnite extension from your browsers (Internet Explorer, Mozilla Firefox, and Google Chrome):
Internet Explorer:
1. Open Internet Explorer, go 'Tools' → 'Manage Add-ons' → 'Toolbars and Extensions'.
2. Here, look for unfamiliar entries, such as BrowseIgnite and click 'uninstall'.
3. Once you remove it, change your start page.
Reset your Internet Explorer (Optional):
1. Open Internet Explorer, click the Gear icon or 'Tools' → 'Internet Options'.
2. Here, go to the 'Advanced' tab and click the 'Reset' button.
3. Go to the 'Reset Internet Explorer settings' → 'Delete personal settings' and click on 'Reset' option.
4. Finally, click 'Close' and OK to save the changes.
Mozilla Firefox:
1. Open Mozilla Firefox, go 'Tools' → 'Add-ons' → 'Extensions'.
2. Find unfamiliar entries, such as BrowseIgnite and click 'Uninstall'.
3. After that, change the start page.
Reset your Mozilla Firefox (Optional)
1. Open Mozilla Firefox, go to the 'Help' section → 'Troubleshooting Information'.
2. Here, choose a 'Reset Firefox' for a couple of times and 'Finish'.
Google Chrome:
1. Click the Chrome menu button on the Google Chrome browser, select Tools → Extensions.
2. Here, look for BrowseIgnite or similar unfamiliar extensions and get rid of them by clicking on the Recycle Bin.
3. Don't forget to change start page.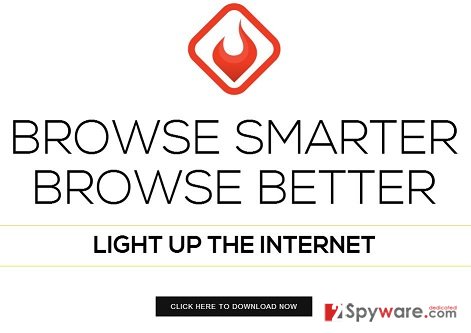 About the author