BrowserApp virus. How to remove? (Uninstall guide)
removal by Alice Woods
-
- Also known as
BrowserApp ads, BrowserApp redirect
| Type:
Adware
BrowserApp (also known as Browser App or Browser-App) is categorized as an adware-type program, which can easily display intrusive advertisements and various banners on your screen. You should not trust this program because it may enter your computer very silently and totally ruin your browsing experience by flooding you with advertisements. Moreover, this untrustworthy application is not responsible for what content may be transmitted thru it. So, sometimes it may cause serious security and privacy-related issues. In order to prove our doubts, here is a statement from BrowserApp terms of use: "The use of the Software (BrowserApp) may cause additional ads to appear when browsing certain websites. These may include, price comparison ads, coupons, pop-unders/ups, banner, inline text or transitional ads, etc… The Company is not affiliated with or responsible for any third party websites, products, services or offers promoted in any advertisements or links made available through the Services ("Third Party Service").".
How can BrowserApp hijack my computer?
The first sign, which indicates that BrowserApp virus is already hiding in your system, is various advertisements that are labeled as 'Browser App Ads', 'brought by Browser App', 'Ads by Browser App', or 'Ads by Browser%20App'. This unwanted program may enter your computer in a couple of ways. First of all, you can download this program yourself from its official website. Furthermore, BrowserApp redirects and ads may happen right after installing a doubtful freeware, such as File Manager, Download Manager, YouTube Video Downloader, Download Accelerator, etc. Usually, you will have a chance to decline such unwanted attachment as BrowserApp virus. In order to do so, you will have to track the entire installation without skipping a step. For that, select 'advanced' or 'custom' installation option and unmark all doubtful toolbars, applications, add-ons and extensions that you may be offered.
How to remove BrowserApp virus from my computer?
Don't worry, sometimes similar adwares and potentially unwanted programs may slip unnoticed. If you follow this removal instruction, you should have no trouble eliminating BrowserApp adware.
Remove BrowserApp from your computer:
1. Click Start → Control Panel → Uninstall a Program.
2. When in the Add/Remove Programs/Uninstall a Program, look for recently installed/unfamiliar applications, such as Browser App or similar unfamiliar entries.
3. Click 'Uninstall' and then OK to save the changes.
Reset your browsers (Internet Explorer, Mozilla Firefox and Google Chrome):
Internet Explorer:
1. Open Internet Explorer, click the Gear icon or 'Tools' → 'Internet Options'.
2. Here, go to the 'Advanced' tab and click the 'Reset' button.
3. Go to the 'Reset Internet Explorer settings' → 'Delete personal settings' and click on 'Reset' option.
4. Finally, click 'Close' and OK to save the changes.
Mozilla Firefox:
1. Open Mozilla Firefox, go to the 'Help' section → 'Troubleshooting Information'.
2. Here, choose a 'Reset Firefox' for a couple of times and 'Finish'.
Google Chrome:
1. Click the Chrome menu button on the Google Chrome browser, select 'Tools' → 'Extensions'.
2. Here, look for unfamiliar entries, such as Browser App.
3. Select each of them and choose Trash can icon to delete them.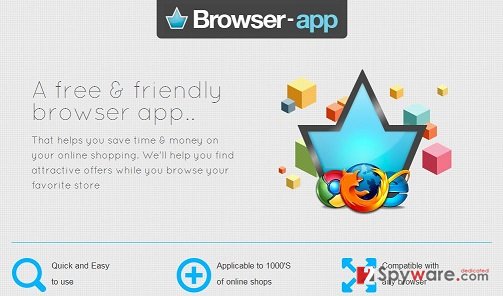 About the author