BrowserSync virus. How to remove? (Uninstall guide)
What is BrowserSync?
BrowserSync is an application that should help you to find best online deals, relevant information, and it even has a feature to underline keywords and find information you seek. Although that sounds splendid, you should not trust this program. In fact, if you read privacy policy section of this program, you should notice why we have our doubts about BrowserSync. In fact, this program is recognized as a potentially unwanted program and an adware. In other words, this untrustworthy program may flood you with BrowserSync ads, various banners, search-related ads, and other visual distractions. This program is mainly used in order to drive traffic to a specific website and make money for its developers. If you do not want to get redirected to some questionable website, continue reading this article. What is more, if you already have this pesky program installed, follow the removal instruction down below.
How can BrowserSync hijack my computer?
BrowserSync is a freeware; therefore, you can easily download it from various download websites. However, as you can imagine, we strongly recommend not to do that. Besides, adwares, potentially unwanted programs and ad-supported extensions usually travel together with free programs as additional attachments. So, if you want to avoid BrowserSync virus, you should carefully check what programs you download, from where you download these programs, and if these programs are safe enough. Having a reliable security tool always helps. Thus, if your computer is unprotected, you need to avoid installing unfamiliar programs. If you have decided that your desired program is safe enough, you should read its end-user license agreement section. Furthermore, when installing such program, select 'advanced' or 'custom' installation option. This will give you an opportunity to spot unwanted attachments, such as BrowserSync virus.
How to remove BrowserSync virus from my computer?
This program may even try to redirect you to some questionable website that is filled with malicious content. Don't let BrowserSync redirects cause you troubles. Follow this removal tutorial and eliminate this potential threat.
Remove BrowserSync from your computer:
1. Click Start → Control Panel → Uninstall a Program.
2. When in the Add/Remove Programs/Uninstall a Program, look for recently installed/unfamiliar applications, such as BrowserSync, Coinis Downloader, SaverAddon, SupTab, WebSaver, Shopping-Addon, ValueApps, Lollipop, PriceMeter, Supra Savings, weDownload Manager, Software Updated Version, DP1815, Video Player, Convert Files for Free, BetterSurf, PureLead, Search Assist, Re-Markable, Lollipop, HD-Total-Plus, Safe Saver, Trusted Web, PassShow, LyricsBuddy-1, PureLeads, Media Player 1.1, RRSavings or similar unfamiliar entries.
3. Click 'Uninstall' and then OK to save the changes.
Remove BrowserSync extension from your browsers (Internet Explorer, Mozilla Firefox, and Google Chrome):
Internet Explorer:
1. Open Internet Explorer, go 'Tools' → 'Manage Add-ons' → 'Toolbars and Extensions'.
2. Here, look for unfamiliar entries, such as BrowserSync and click 'uninstall'.
3. Once you remove it, change your start page.
Reset your Internet Explorer (Optional):
1. Open Internet Explorer, click the Gear icon or 'Tools' → 'Internet Options'.
2. Here, go to the 'Advanced' tab and click the 'Reset' button.
3. Go to the 'Reset Internet Explorer settings' → 'Delete personal settings' and click on 'Reset' option.
4. Finally, click 'Close' and OK to save the changes.
Mozilla Firefox:
1. Open Mozilla Firefox, go 'Tools' → 'Add-ons' → 'Extensions'.
2. Find suspicious-looking entries, such as BrowserSync and click 'Uninstall'.
3. After that, change the start page.
Reset your Mozilla Firefox (Optional)
1. Open Mozilla Firefox, go to the 'Help' section → 'Troubleshooting Information'.
2. Here, choose a 'Reset Firefox' for a couple of times and 'Finish'.
Google Chrome:
1. Click the Chrome menu button on the Google Chrome browser, select Tools → Extensions.
2. Here, look for unfamiliar extensions like BrowserSync and get rid of them by clicking on the Recycle Bin.
3. Don't forget to change start page.
WHAT IS ADWARE?
Adware is a program that displays advertisements while people are browsing online. Advertisements appear in a web browser, pop-up windows, special toolbars or within the host program. Adware also can gather information about user's habits and interests. Once it collects what it needs, it sends it out through a background Internet connection. Such behavior allows adware vendors to deliver targeted advertisements to the end user and collect general statistics.
Adware is divided into parasitical and legitimate applications. Illegal advertising programs are very similar to spyware parasites and often have some of their functions. They can be installed without user's knowledge and start working every time a computer is rebooted. However, they are less dangerous than rogues because the most of such parasites are primarily intended to collect user's personal information for marketing and advertising purposes. Unfortunately, you can never know what other purposes it can be used for.
Symptoms showing that your computer was affected by adware:
Appearance of annoying pop-up ads
Appearance of banners and in-text ads
Redirects to unknown and suspicious websites
Changes in homepage and default search engine
Decreased speed of every Internet browser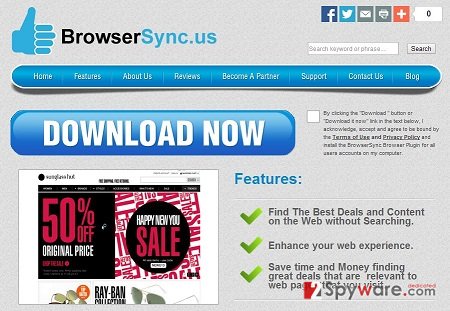 About the author
Removal guides in other languages