Browsing Protection. How to remove? (Uninstall guide)
removal by Olivia Morelli
-
- Also known as
Browsing Protection virus, Browsing Protection ads
| Type:
Adware
Browsing Protection may look like a legitimate extension for your browser that promises to block harmful and corrupted websites and guard your computer against various cyber threats. Sounds like a useful program, does it? Sadly, first impression can be deceiving. In fact, Browsing Protection is categorized as an adware-type program that can barely give anything useful in return. In other words, this application only seeks to enter your computer by pretending to be a helpful extension. Right after this infiltration stage is completed, you may start seeing annoying advertisements everywhere you go. If you don't believe that this program may act this way, here is a statement from Browsing Protection privacy policy section: "The Software (Browsing Protection) displays several types of advertising, including but not limited to: (1) sponsored links, (2) traditional display advertisements, such as banner ads, pop-up ads and interstitial ads, (3) coupons, (4) video targeted ads, and (5) offers to download and install other applications.".
How can Browsing Protection hijack my computer?
It is not very difficult to get this useless program. You can download Browsing Protection virus yourself from its official website, or this useless application may appear on your computer very unnoticeably. That may happen if you are installing questionable freewares without checking them first. Browsing Protection redirects can be extremely frustrating; therefore, it is better to be more cautious than to experience unwanted consequences. Every time when you are going to install an unfamiliar freeware, try not to rush the installation by clicking the 'next' button all the time. If you do so, you may unintentionally add Browsing Protect virus to your system. Instead, choose 'advanced' or similar installation option, which will give you the opportunity to follow installation one step at a time.
How to remove Browsing Protection from my computer?
In order to stop Browsing Protection ads, you have to remove this trespasser from your system. Sometimes manual removal is not enough. Sometimes you need to remove the hidden files with an anti-spyware program. Follow these simple instructions and you should remove Browsing Protection from your computer.
Remove Browsing Protection from your computer:
1. Click Start → Control Panel → Uninstall a Program.
2. When in the Add/Remove Programs/Uninstall a Program, look for recently installed/unfamiliar applications, such as Browsing Protection or similar unfamiliar entries.
3. Click 'Uninstall' and then OK to save the changes.
Reset your browsers (Internet Explorer, Mozilla Firefox and Google Chrome):
Internet Explorer:
1. Open Internet Explorer, click the Gear icon or 'Tools' → 'Internet Options'.
2. Here, go to the 'Advanced' tab and click the 'Reset' button.
3. Go to the 'Reset Internet Explorer settings' → 'Delete personal settings' and click on 'Reset' option.
4. Finally, click 'Close' and OK to save the changes.
Mozilla Firefox:
1. Open Mozilla Firefox, go to the 'Help' section → 'Troubleshooting Information'.
2. Here, choose a 'Reset Firefox' for a couple of times and 'Finish'.
Google Chrome:
1. Click the Chrome menu button on the Google Chrome browser, select 'Tools' → 'Extensions'.
2. Here, look for unfamiliar entries, such as Browsing Protection.
3. Select each of them and choose Trash can icon to delete them.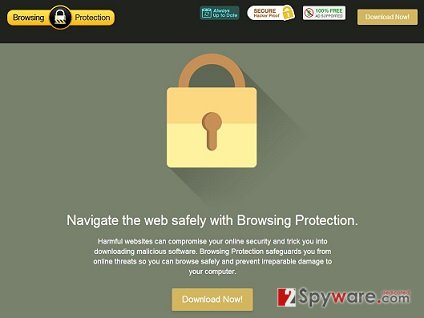 About the author