Cheshire Police Authority. How to remove? (Uninstall guide)
Cheshire Police Authority is a sneaky infection, which belongs to the category of ransomwares. It can also be known as Police Central e-crime Unit virus, UK Police virus or simply Ukash virus. The main trait, which lets you know that you have a deal with this ransomware, is computer's lock down. Additionally, your PC's desktop will be replaced by a huge alert that presents itself as a serious notification from United Kingdom Police and lists various illegal activities. Typically, this virus claims that you have been violating various laws, such as Copyright and Related Rights Law, and now have to pay the fine of 100 pounds via Ukash or Paysafecard prepayment systems. Please, never believe this bogus notification because Cheshire Police Authority (the real one) has never been blocking PCs when trying to punish their criminals. We highly recommend to remove Cheshire Police Authority as soon as it appears on your PC's desktop.
HOW CAN I GET INFECTED WITH Cheshire Police Authority?
Cheshire Police Authority virus is distributed via spam and fake alerts that offer to update you something. However, you should ignore such pop-ups and use only official websites when you need to update something. Additionally, ransomware locks the computer down and disables all programs and Internet connection. Additionally, it starts displaying a bogus notification, which claims about various illegal activities, such as the distribution of pornographic material, malware, copyrighted content or spam. Of course, this scamware seeks to swindle your money, so it asks to pay a non-existing £100 fine. Here's how this fake alert looks like:
United Kingdom Police
Metropolitan Police – PCEUCheshire Police Authority
ATTENTION! Your PC is blocked due tout least one of the reasons specified below.
You have been violating. Copyright and Related Rights Law. (Video, Music, Software) and illegally using or distributing copyrighted content, thus infringing Article 128 of the Criminal Code of Great Britain.
Article 128 of the Criminal Code provides for a fine of 200 to 500 minimal wages or a deprivation of liberty for 2 to 8 years.You have been viewing or distributing prohibited Pornographic content (Child Porn/Zoophilia and etc).
(…)
The amount of fine is £100. You can pay a fine Ukash or PaySafeCard.When you pay the fine, your PC will get unlocked in Ito 72 hours after the money is put into the State's account. Since your PC is unlocked, you will be given 7 days to correct all violations. In case all violations are not corrected after 7 working days, your PC will be blocked again, and a criminal case will be initiated against you automatically under one or more articles specified above.
Besides, in order to seem more professional and authentic, this sneaky application takes over the webcam and starts showing what is happening in the victim's room.
If you think that you may be infected with Cheshire Police Authority, you have to check your PC with reputable anti-spyware without any delay. Of course, this will be hard when suffering from system's lock down. If you need some help with Cheshire Police Authority removal, follow this guide:
HOW TO REMOVE Cheshire Police Authority?
If you are infected with Cheshire Police Authority virus and you need a guide to unblock the system, you should use one of these methods:
* Flash drive method:
1. Take another machine and use it to download Malwarebytes, Reimage or other reputable anti-malware program.
2. Update the program and put into the USB drive or simple CD.
3. In the meanwhile, reboot your infected machine to Safe Mode with command prompt and stick USB drive in it.
4. Reboot computer infected with Cheshire Police Authority once more and run a full system scan.
* Users infected with Cheshire Police Authority are allowed to access other accounts on their Windows systems. If one of such accounts has administrator rights, you should be capable to launch anti-malware program.
* Try to deny the Flash to make your ransomware stop function as intended. In order to disable the Flash, go to Macromedia support and select 'Deny': http://www.macromedia.com/support/documentation/en/flashplayer/help/help09.html. After doing that, run a full system scan with anti-malware program.
* Manual Cheshire Police Authority removal:
Reboot you infected PC to 'Safe mode with command prompt' to disable Kingdom of Jordan virus (this should be working with all versions of this threat)
Run Regedit
Search for WinLogon Entries and write down all the files that are not explorer.exe or blank. Replace them with explorer.exe.
Search the registry for these files you have written down and delete the registry keys referencing the files.
Reboot and run a full system scan with updated Malwarebytes or Reimage to remove remaining virus files.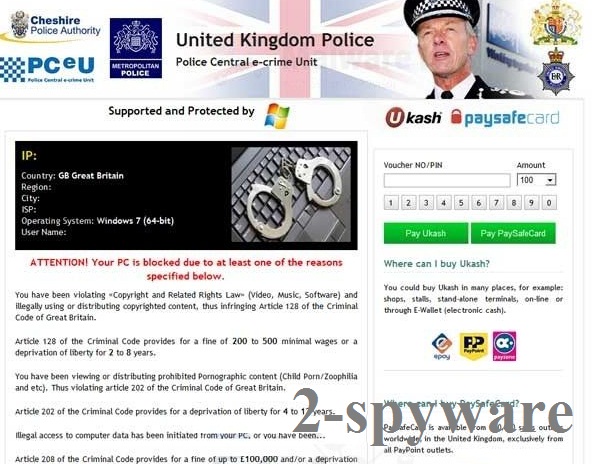 Cheshire Police Authority manual removal:
Kill processes:
[random].exe
Delete files:
[random].exe
About the author
Removal guides in other languages