Cloud Protection. How to remove? (Uninstall guide)
Cloud Protection is a rogue anti-virus program from the same family as Guard Online. It claims that your computer is compromised and offers you to purchase the full version of the program to remove the supposedly found malware. When running, this parasite will restrict access to certain websites mostly to protect itself from being deleted and block legitmate anti-spyware software. To make this scam even more effective,Cloud Protection will flood your computer with very annoying and of course fake security alerts and notifications about serious security problems and system exploits. If you are infected with this malicious software, please use the removal guide below to remove Cloud Protection from your computer as soon as possible. If you have already purchased it, you should contact your credit card company and dispute the charges. Although, Cloud Protection doesn't look like a regular Windows application, it may still trick many users into thinking that their PCs are infected by malware.
Windows Security Alert
To help protect your computer, Windows Firewall has blocked some features of this program.
Do you want to keep blocking this program?
Name: Zeus Trojan Publisher: Unauthorized
Security Warning
There are critical system files on your computer that were modified by malicious software.
It may cause permanent data loss.
Click here to remove malicious software.
Once Cloud Protection is installed and running, it will perform a fake system scan and find non-existent viruses, to inform the user that his computer is infected with spyware and other viruses. The rogue also displays fake security alerts. These alerts are very similar to genuine Wiindows alerts, so the user can be easily confused. Cloud Protection then suggest to purchase the software in order to remove those infections. However, as you may already guess, you shouldn't pay for it. CloudProtection cannot remove any infections and viruses. It was designed to steal money from people. That's why we strongly recommend you to use removal instructions stated below and to remove Cloud Protection from the system immediately after detection. You can remove it manually, but this rogue can come bundled with rootkits, so we strongly recommend you to use an automatic removal guide below.
Alternate Software
We have tested Malwarebytes's efficiency in removing Cloud Protection (2011-10-25)
We have tested Malwarebytes's efficiency in removing Cloud Protection (2011-10-25)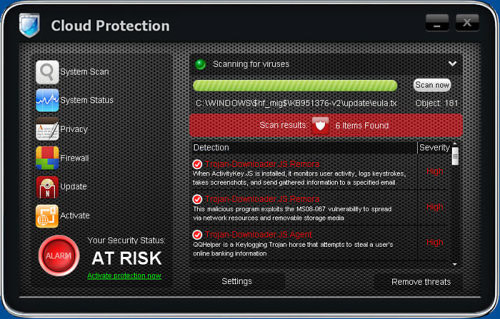 Cloud Protection manual removal:
Kill processes:
[random].exe
csrss.exe
conhost.exe
Delete files:
%SystemRoot%system32[random].exe
%SystemRoot%system32[random].exe
%AppData%[random]Cloud Protection.ico
%AppData%conhost.exe
%AppData%csrss.exe
%AppData%E84E.1B6
%AppData%ldr.ini
%AppData%[random]
%AppData%[random]
%AppData%[random]
%AppData%Microsoftcsrss.exe
%UserProfile%DesktopCloud Protection.lnk
%Temp%4F.tmp
%Temp%53.tmp
%Temp%54.tmp
%Temp%55.tmp
%UserProfile%Start MenuProgramsCloud Protection
%UserProfile%Start MenuProgramsCloud ProtectionCloud Protection.lnk
About the author