Compare.us.com redirect. How to remove? (Uninstall guide)
compare.us.com is a site which searches across the retail internet collecting prices on millions and millions of products from thousands of retailers. They compare products prices, follow the changes and tries to keep the up to date price of the product in their website.
What is bad with the Compare.us.com?
With the site itself nothing. but cybercriminal exploits this site to earn money. There is a Virus called Google Redirect Virus (also known as Google Redirect Trojan) which acts as a hijacker trojan that redirects Google, Yahoo, Bing, MSN and other search engine search results to various websites that are not necessarily related to your search query. So Compare.us.com website is one of these sites where victims are redirected. It is important to know that cybercriminal gets money if they redirect users through Pay per Click results to the sites like Compare.us.com.
What to do and how to remove Compare.us.com redirects from the system?
As we already told, the site Compare.us.com is not malicious, but if you have redirects on your computer, which lead you to this site, that means you are infected with the redirect virus. This is a very high risk threat. You need to get rid of Compare.us.com redirect immediately in order to protect your privacy and prevent harm to your PC.
When you are infected you see the following message when you click on search results:

"The document has moved, redirecting…"
or you see a spinning wheel labeled
"Loading…"
Removal process of Compare.us.com redirect is a difficult task. Even if you delete some files, they come back again after reboot. You can use this guide 'What to do when Google/Yahoo/Bing results are redirecting? for Compare.us.com redirect removal or some reputable anti-spyware software listed below, for automated removal, or call us for help (the number provided below).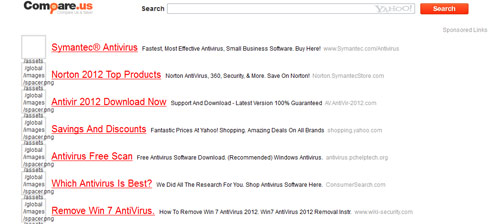 About the author