Confederation Suisse virus. How to remove? (Uninstall guide)
Confederation Suisse virus is a misleading cyber infection, which shows professionally-designed warning while trying to rip its victims off. Be aware that it is designed for French or German-speaking countries and pretends to belong to local governmental authorities, such as police, departments of governmental organizations or the bureaus. However, the fact that Confederation Suisse virus blocks the whole system should clearly show that it has nothing to do with these organizations because they have never been acting like that. So, you must ignore Confederation Suisse virus message and remove its infected files as soon as this program starts blocking your PC's screen. Do not trust those words as well: Der Zugang zu Ihrem Computer Wurde gesperrt.
HOW CAN I GET INFECTED WITH Confederation Suisse virus?
Confederation Suisse virus is distributed by trojan horse, which hides inside illegal sites, spam, freeware, shareware and similar places. As soon as it manages to get inside, this trojan blocks the system and shows a police warning, which typically looks very professional. For example, Confederation Suisse viru alert has police logo,victim's IP address, location, description of various laws and even includes user's antivirus logo. However, you should never believe those crimes that are reported by Confederation Suisse virus. It seeks only to scare you into paying this invented fine. Instead of doing that, you are highly recommended to remove Confederation Suisse virus from the system.
HOW TO REMOVE Confederation Suisse virus?
When eliminating Confederation Suisse virus, you should unblock your computer first. Some users do that by setting their computers' date to the previous, but if this hasn't been helpful for you, follow these options:
* Flash drive method:
1. Take another machine and use it to download Plumbytes Anti-MalwareWebroot SecureAnywhere AntiVirus, Reimage or other reputable anti-malware program.
2. Update the program and put into the USB drive or simple CD.
3. In the meanwhile, reboot your infected machine to Safe Mode with command prompt and stick USB drive in it.
4. Reboot computer infected with Ukash virus once more and run a full system scan.
* Users infected with Ukash viruses are allowed to access other accounts on their Windows systems. If one of such accounts has administrator rights, you should be capable to launch anti-malware program.
* Try to deny the Flash to make your ransomware stop function as intended. In order to disable the Flash, go to Macromedia support and select 'Deny': http://www.macromedia.com/support/documentation/en/flashplayer/help/help09.html. After doing that, run a full system scan with anti-malware program.
* Manual Ukash virus removal (special skills needed!):
Reboot you infected PC to 'Safe mode with command prompt' to disable Ukash virus (this should be working with all versions of this threat)
Run Regedit
Search for WinLogon Entries and write down all the files that are not explorer.exe or blank. Replace them with explorer.exe.
Search the registry for these files you have written down and delete the registry keys referencing the files.
Reboot and run a full system scan with updated Reimage to remove remaining virus files.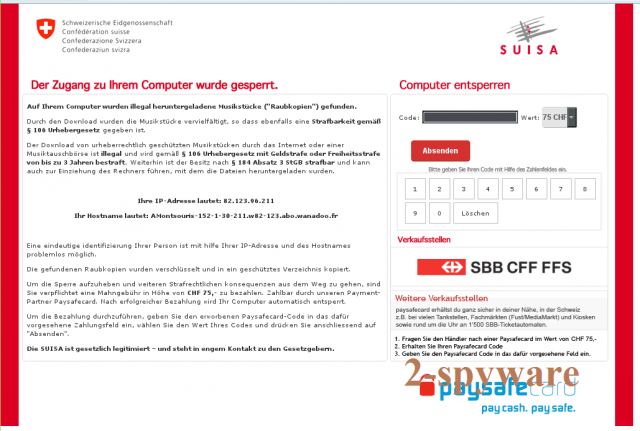 Confederation Suisse virus manual removal:
Kill processes:
[random].exe
Delete files:
[random].exe
About the author