Conflicker.B Infection Alert. How to remove? (Uninstall guide)
removal by Lucia Danes
-
- Also known as
Conflicker.B Infection Alert spam
| Type:
Adware
Once again the "Conflicker.B Infection Alert" spam campaign has started. The same campaign was seen earlier this year. The scheme remains the same but the e-mail is a bit modified and written is several different languages. Basically, a person gets an email with Conflicker.B Infection Alert in subject from Microsoft Windows Agent (supposedly from Microsoft's Computer Safety Division). The fake message has an attachment. Usually, it is a file called install.zip (29.66KB), however please note that the file name may vary. The message states:
From "Microsoft Windows Agent"
Subject Conflicker.B Infection Alert
Dear Microsoft Customer,
Starting 18/10/2009 the 'Conficker' worm began infecting Microsoft customers unusually rapidly. Microsoft has been advised by your Internet provider that your network is infected.
To counteract further spread we advise removing the infection using an antispyware program. We are supplying all effected Windows Users with a free system scan in order to clean any files infected by the virus.
Please install attached file to start the scan. The process takes under a minute and will prevent your files from being compromised. We appreciate your prompt cooperation.
Regards,
Microsoft Windows Agent #2 (Hollis)
Microsoft Windows Computer Safety Division
Most importantly, do not download and open install.zip file. It contains a Trojan virus (install.exe file) which displays fake security alerts and notifications about serious system security threats and infections. The fake notification reads:
Your computer is infected!
Windows has detected spyware infection!
It is recomended to use special antispyware tools to pervent data loss.Windows will now download and install the most up-to-date antispyware for you.
Click here to protect your computer from spyware!
Finally, the Trojan installs the rogue security application called Antivirus Pro 2010 on the compromised computer. It imitates system scan and reports false scan results to make you think your computer is badly infected. The main goal of this malware is to trick your into purchasing the program.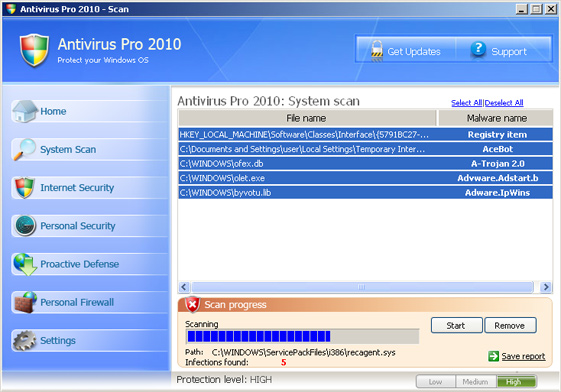 If your computer is infected with this parasite, please use the removal guide below to remove Antivirus Pro 2010 and related malware including Conflicker.B Infection Alert Trojan from your PC. Also we strongly recommend you to scan your computer with a reliable anti-spyware application just to make sure there are no other viruses on your computer.
Conflicker.B Infection Alert manual removal:
Kill processes:
seres.exe
svcst.exe
lizkavd.exe
Delete registry values:
HKEY_LOCAL_MACHINESOFTWAREAntivirusPro_2010
HKEY_LOCAL_MACHINESOFTWAREMicrosoftESENTProcesslizkavd
HKEY_LOCAL_MACHINESOFTWAREMicrosoftWindowsCurrentVersionUninstallAntivirusPro_2010
HKEY_CURRENT_USERSoftwareMicrosoftInternet ExplorerDownload "RunInvalidSignatures" = "1"
HKEY_CURRENT_USERSoftwareMicrosoftWindowsCurrentVersionPoliciesAssociations "LowRiskFileTypes" = "zip;.rar;.cab;.txt;.exe;.reg;.msi;.htm;.html;.gif;.bmp;.jpg;.avi;.mov;.mp3;.wav"
HKEY_CURRENT_USERSoftwareMicrosoftWindowsCurrentVersionPoliciesAssociations "SaveZoneInformation" = "1"
HKEY_CURRENT_USERSoftwareMicrosoftWindowsCurrentVersionPoliciesExplorer "ForceClassicControlPanel" = "1"
HKEY_CURRENT_USERSoftwareMicrosoftInternet ExplorerDownload "CheckExeSignatures" = "no"
HKEY_CURRENT_USERSoftwareMicrosoftWindowsCurrentVersionRun "mserv"
HKEY_CURRENT_USERSoftwareMicrosoftWindowsCurrentVersionRun "svchost"
HKEY_LOCAL_MACHINESOFTWAREMicrosoftESENTProcesslizkavd
HKEY_LOCAL_MACHINESOFTWAREMicrosoftWindowsCurrentVersionRun "Antivirus Pro 2010"
Delete files:
seres.exe
svcst.exe
lizkavd.exe
About the author