Control Center. How to remove? (Uninstall guide)
Control Center is a misleading application, fake spyware removal tool that uses false scan results and fake security alerts to scare you into purchasing the so-called "full" version of the program. The misleading application is a clone of Privacy Center malware. Once installed, it will run several fake system scans and report numerous infections or system security threats to make you think that your computer is infected with spyware, Trojans, worms and other viruses. Then it will ask you to pay for a full version of the program to remove those threats. Of course, this is a scam, because ControlCenter identifies harmless files as dangerous infections. So, the scan results are false. You may easily ignore them. Most importantly, do not purchase it. Instead, uninstall CCenter from your PC as soon as possible. Note that removal delay will likely worsen the situation because the program is able to download and install additional malware.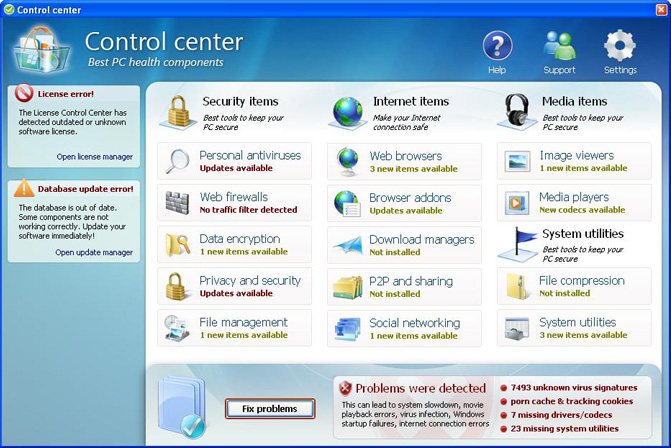 [Figure 1. Control Center graphical user interface]
Control Center is distributed through the use of Trojans that enter a computer secretly or using various misleading methods and social engineering. Most of the time, Trojans come from fake online scanners and fake websites. Trojans can be bundled with other malicious software too. When running, ControlCenter will be configured to run a system scan each time you logon into Windows. As we have already mentioned, the scan results are false. The same can be said about CCenter security alerts. Those are fake too. What is more, the rogue program will disable certain system tools and options. It may disable Task Manager and System Restore or block anti-virus software/security related websites.
If you find that your computer is infected with this malware, please use the removal guide below to remove Control Center from the system as soon as possible. If you have already purchase the program, contact your credit card company and tell them what has happened. Last, but not least, scan your PC with trusted and reliable anti-spyware application to make sure that all infected files were removed successfully and there are no remains or additional malware in your computer.
Alternate Software
We have tested Plumbytes Anti-Malware's efficiency in removing Control Center (2011-03-03)
We have tested Malwarebytes's efficiency in removing Control Center (2011-03-03)
We have tested Hitman Pro's efficiency in removing Control Center (2011-03-03)
We have tested Malwarebytes's efficiency in removing Control Center (2011-03-03)
Control Center manual removal:
Kill processes:
cc.exe
agent.exe
uninstall.exe
cmain.exe
security_update_install.exe
Delete files:
cc.exe
agent.exe
uninstall.exe
settings.ini
guide.html
05.png
06.png
07.png
08.png
09.png
10.png
Control center.lnk
ccagent.exe
cmain.exe
3.tmp
security_update_install.exe
Delete directories:
C:Documents and Settings%UserName%Application DataCC
C:Documents and Settings%UserName%Application DataCCfaq
C:Documents and Settings%UserName%Application DataCCfaqimages
About the author