Cyber Command virus. How to remove? (Uninstall guide)
Cyber Command virus is a dangerous ransomware, which attacks people living in USA. Just like any other ransonware, it changes its name according to computer's location. For example, if your computer is in Washington, virus shows up as a Cyber Command of Washington, if your machine is in New York, this virus will present itself as a Cyber Command of New York, if its in California – it shows up as Cyber Command of California and so on. The clearest sign telling that your computer is infected with this threat is a huge warning message, which claims that you were illegally using copyrighted content, spreading malware or distributing pornographic material. After that, it asks to pay a fine of $300. Of course, you should never pay this fine via Moneygram or Moneypak prepayment system. You must ignore Cyber Command virus because there is no governmental authority that would collect fines in such way.
HOW CAN I GET INFECTED WITH Cyber Command virus?
Just like all viruses, Cyber Command virus infiltrates computers without any sign. This is possible because this ransomware is distributed by trojan horse. Some experts call it Trojan RansomLock, others present it as the Trojan Urausy. However, no matter what the name of this trojan is, the most important thing is what it is able to do. Typically, this virus infiltrates computer through its backdoors. You can prevent that by installing reputable anti-spyware on your machine. However, if it gets inside its target PC system, it downloads malicious files that belong to Cyber Command virus and also blocks the affected system. For that, it needs to add its own registry entries. As a result, Cyber Command virus starts its misleading campaign, which relies on this fake notification:
USA Cyber Crime Investigations

Cyber Command of New York
ATTENTION!
Your computer has been blocked up for safety reasons listed below.
You are accused of viewing/storage and/or dissemination of banned pornography (child pornography/zoophilia/rape etc). You have violated World Declaration on non-proliferation of child pornography.
You are accused of committing the crime envisaged by Article 161 of United States of America criminal law.
(…)
The penalty set must be paid in course of 48 hours as of the breach. On expiration of the term, 48 hours that follow will be used for automatic collection of data on yourself and your misconduct, and criminal case wilt be opened against you. Amount of firm is 300$. You can settle the fine with MoneyPak or MoneyGram xpress Packet vouchers.
(…)
Please, ignore this notification because it is used for the only thing – to steal your money. If you think that paying the fine will unblock your computer, that's not true. Only Cyber Command virus elimination can help to do that.
HOW TO REMOVE CYBER COMMAND VIRUS?
If you are infected with Cyber Command virus, you have unblock your computer for starting virus removal. For that, we recommend following one of these guide. If one guide fails to help you, try another one.
Cyber Command virus removal guide:
Reboot your infected computer.
Click Start -> Run and enter https://www.2-spyware.com/download/hunter.exe (if your are blocked by ransomware, press alt+tab and continue entering this address)
A warning that belongs to ransomware may show up again. In this case, press Alt+Tab and "R" as much as needed.
Install anti-malware and run a full system scan to remove malicious files from the system.
Manual Cyber Command virus removal:
Reboot you infected PC to 'Safe mode with command prompt' to disable thisI virus (this should be working with all versions of this threat)
Run Regedit
Search for WinLogon Entries and write down all the files that are not explorer.exe or blank. Replace them with explorer.exe.
Search the registry for these files you have written down and delete the registry keys referencing the files.
Reboot and run a full system scan with updated Reimage, Malwarebytes MalwarebytesCombo Cleaner, Plumbytes Anti-MalwareMalwarebytes Malwarebytes or other reputable anti-spyware to remove remaining files.
Flash drive method:
1. Take another machine and use it to download Reimage or other reputable anti-malware program.
2. Update the program and put into the USB drive or simple CD.
3. In the meanwhile, reboot your infected machine to Safe Mode with command prompt and stick USB drive in it.
4. Reboot computer infected with Cyber Command virus once more and run a full system scan.
* Users infected with these ransomware threats are allowed to access other accounts on their Windows systems. If one of such accounts has administrator rights, you should be capable to launch anti-malware program.
* Try to deny the Flash to make your ransomware stop function as intended. In order to disable the Flash, go to Macromedia support and select 'Deny': http://www.macromedia.com/support/documentation/en/flashplayer/help/help09.html. After doing that, run a full system scan with anti-malware program.
Alternative Software
Different security software includes different virus database. If you didn't succeed in finding malware with Reimage, try running alternative scan with Malwarebytes.
Alternative Software
Different security software includes different virus database. If you didn't succeed in finding malware with Reimage, try running alternative scan with Combo Cleaner.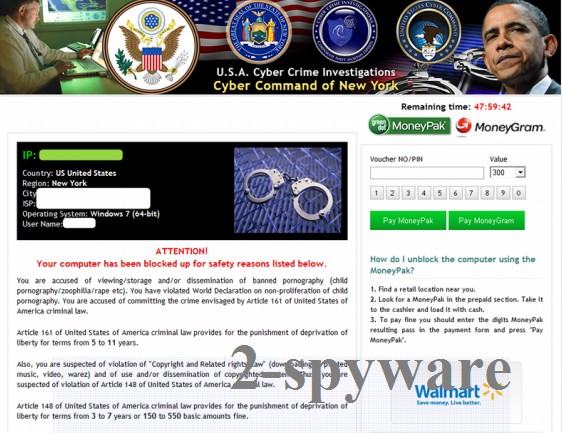 About the author
Removal guides in other languages