Data Recovery. How to remove? (Uninstall guide)
At the end of April 2012 new virus appeared with the same Data Recovery name. Its i a different program, please take a look at the screenshots to see with which Data Recovery you are infected with. The new Data Recovery virus we named Smart Data Recovery as this virus changed Smart HDD virus and share the same GUI.
Data Recovery is a rogue computer optimization program that displays fake critical security errors and reports registry, hard drive problems that do not even exist. It's not the first of its kind but this fake application may seriously compromise your privacy and restrict access to various application and files. It's a clone and System Recovery scam. Data Recovery runs a fake system scan and states that your computer has hard drive and RAM problems. It displays fake alerts claming that you can lose your important data anfd files if you won't fix the supposed problems immediately. That's a typical scam used to scare users into thinking that their computers are infected and to "push" bogus software to fix the problems. Data Recovery is distributed via hacked websites and fake virus scanners. If you manged to infect your PC with this fake computer optimization program you'll notice that right away. The rogue program will hide shortcuts and make your Dekstop black. It will also hide other files on your computer to make you think that there are some serious hard drive failures. You will have to unhide those files manually. Also, do not delete files from Windows temp folder. Data Recovery copies certain files to %Temp%\smtmp folder and if you remove those files, you've have to run Windows recovery disk because there is no other way to restore system shortcuts and files. We recommend STOPzilla. Some of the messages that will randomly be displayed are:
Data Recovery DiagnosticsWindows detected a hard disk error.
A problem with the hard drive sectors has been detected. It is recommended to download the
following sertifiedsoftware to fix the detected hard drive problems. Do you want to download recommended software?
Requested registry access is not allowed.
Registry defragmentation required
Hard Drive rotational speed decreased by 20%
Disk drive C:\ is unreadable.
System files are damaged.System is unstable.
The problem may cause errors while loading operating system
Ram memory speed decreased significantly and may cause system failure.
Critical Error!
Damaged hard drive clusters detected. Private data is at risk.
Critical Error

Hard Drive not found. Missing hard drive.
Please note that you may have to follow the removal instructions in safe mode with networking because most of the programs need to remove Data Recovery is are blocked in normal mode. Last, but not least, do not purchase this fake program. It's a scam. If you have already paid for it, contact your bank and dispute the charges. Then use STOPzilla to remove Data Recovery from your computer. Just enter the activation code given above, install Reimage, Malwarebytes MalwarebytesCombo Cleaner or Plumbytes Anti-MalwareMalwarebytes Malwarebytes and run a full system scan. It will remove the rogue program and related viruses from the system.
These activation codes that could help you to disable this virus are: 1203978628012489708290478989147 or 08869246386344953972969146034087.
The latest parasite names used by FakeHDD:
[newest id="fakehdd"]
Alternative Software
Different security software includes different virus database. If you didn't succeed in finding malware with Reimage, try running alternative scan with Malwarebytes.
Alternative Software
Different security software includes different virus database. If you didn't succeed in finding malware with Reimage, try running alternative scan with Combo Cleaner.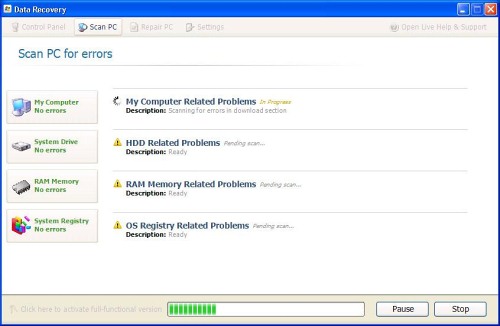 About the author
Removal guides in other languages

September 27th, 2011 at 4:09 am

I used to remember telling my co-workers the importance of backing-up their data, and I wasnt taken seriously (some of them told me to stop preaching, that they could handle it). And when it happened, I was smart enough not to smack iton their faces. Oh well. I told them so…


October 25th, 2011 at 11:36 am

What is the code of the activation??


October 25th, 2011 at 11:11 am

"Just enter the activation code given above,"

Where is the code???


December 27th, 2011 at 10:09 pm

To recover a deleted file, you need "file recovery" software. If you go to http://download.com and search, you will find several free recovery programs. They will look through your hard drive; find any "files" that no longer have pointers and offers to try to restore them for you. The sooner you attempt a recovery, the better your chances of getting one.

recovery data


April 29th, 2012 at 2:39 am

Seems that that msdia80.dll is some sort of file use by the OS and for some coding deomlvpeent. If there is a particular package that is installed it puts it on the root of all your disk partitions (ie your D: drive). As long as there is space on your D partition, which there appears to be, then you can store what you want there. The recovery part of the drive is not accessible (wont have a drive letter assigned to it). Hope that helps. Its also smart, since you have a laptop to also have one of those external USB drives.


May 6th, 2012 at 4:10 pm

Whenever I delete the registry keys, they just come back. How do I permanently delete them?


May 12th, 2012 at 8:49 am

Thanks so much for the excellent/detailed instructions. It worked for me just fine. A true Lifesaver! Yes, spyware doctor is a great program.


August 17th, 2012 at 4:24 pm

Thanks for the post. Is this different from normal data recovery software? Because I have some data recovery software that really does recover data. How am I supposed to tell the difference?


December 2nd, 2013 at 9:58 pm

You may try this step by step guide: recover virus infected files