Decrypt Protect virus. How to remove? (Uninstall guide)
Decrypt Protect virus is nothing else but the malware, which belongs to the category called 'ransomware'. As soon as it manages to overcome computer's security barriers and infects it, it blocks computer down by encrypting various hard drive's files. This threat may modify these files as well by changing their extensions. In addition, malware starts showing a message claiming that computer's block is a natural consequence of user's illegal activities, such as the distribution of malware, the use of pornographic material and even the launch DDoS attacks. This ransomware is invented for money, so it also asks to pay the fine for the decryption of the files. So, thanks to Decrypt Protect virus, you won't be capable to get on the Internet and launch any program, which is installed on your computer. Instead of that, you will see only this illegal warning presenting itself as the notification from the 'MBL Advisory'. Please, ignore it and remove Decrypt Protect virus from the PC.
HOW CAN I GET INFECTED WITH Decrypt Protect virus?
Decrypt Protect virus is distributed via Trojan horse, which can get inside the system via security vulnerabilities found. Just like all trojans, it hides inside officially looking emails, annoying pop-up ads and similar places, so beware. As soon as this threat enters the system, it blocks all of the files on computer's hard drive and starts accusing its victim that he has a deal with a serious governmental authority. For that, it shows its forged alert reporting about various invented law violations and asking to pay the fine cia MoneyPak, Ukash or Paysafecard prepayment systems. Please, do NOT fall for this trickery because you will lose your money and all important data, which is stored on your computer. If you have Decrypt Protect virus on board, please follow a detailed guide below and fix your computer.
HOW TO REMOVE Decrypt Protect virus?
When trying to remove Decrypt Protect virus virus, the most important thing is to unblock the PC. Sometimes setting the date to the previous one helps. In addition, you can also use one of these methods:
* Flash drive method:
1. Take another machine and use it to download Reimage or other reputable anti-malware program.
2. Update the program and put into the USB drive or simple CD.
3. In the meanwhile, reboot your infected machine to Safe Mode with command prompt and stick USB drive in it.
4. Reboot computer infected with Decrypt Protect virus once more and run a full system scan.
* Users infected with Decrypt Protect virus are allowed to access other accounts on their Windows systems. If one of such accounts has administrator rights, you should be capable to launch anti-malware program.
* Try to deny the Flash to make your ransomware stop function as intended. In order to disable the Flash, go to Macromedia support and select 'Deny': http://www.macromedia.com/support/documentation/en/flashplayer/help/help09.html. After doing that, run a full system scan with anti-malware program.
* Manual Decrypt Protect virus removal:
Reboot you infected PC to 'Safe mode with command prompt' to disable your virus (this should be working with all versions of this threat)
Run Regedit
Search for WinLogon Entries and write down all the files that are not explorer.exe or blank. Replace them with explorer.exe.
Search the registry for these files you have written down and delete the registry keys referencing the files.
Reboot and run a full system scan with updated Reimage to remove remaining virus files.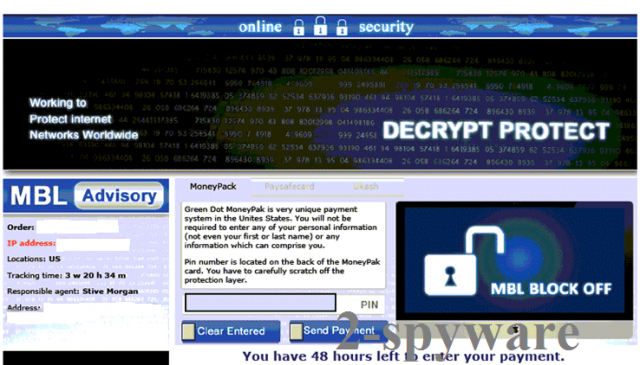 Decrypt Protect virus manual removal:
Kill processes:
[random].exe
Delete files:
[random].exe
About the author
Removal guides in other languages