Defender-soft.com. How to remove? (Uninstall guide)
Defender-soft.com appears to be one of the malicious methods that all are applied by Antispyware Soft rogueware to achieve its fraudulent commercial goals. Antispyware Soft tries to make PC users think that their computers are infected with viruses and they need to buy a tool for fixing everything. With a help of Defender-soft.com, people are also redirected to the "official" domain of this program and offered doing a free system scan. Once Defender-soft.com hijacker is in, every time people start a new Internet session they are brought to this website. Keep in mind, those constant redirections is one of the signs that computer is infected with rogueware and a full system scan with a reputable antispyware is needed.
The whole trickery of Defender-soft.com hijacker starts with its secret infiltration using a Trojan. Note: clicking on various pop-up ads that appear on your desktop from nowhere may also let Trojans inside, so avoid visiting foolishly looking websites and don't click on anything suspicious. Once users are brought there, they all witness fake system scanners that run online and show "critical" infections that in truth are simulated.
All the alerts on Defender-soft.com are destined to offer purchasing the full version of Antispyware Soft malware. After people are scared about hundreds of viruses "detected", they are pushed directly into installing it on their PCs. However, if you follow such dangerous recommendations, you'll only spend your money on typical rogue anti-spyware. Problem can be fixed only if Antispyware Soft and Defender-soft.com are removed from the system. Avoid such hijackers like this one and delete all the data of these two badwares.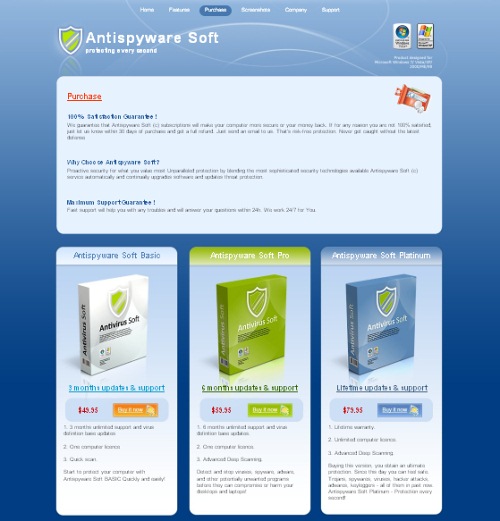 Defender-soft.com manual removal:
Kill processes:
[random string].exe
[random string]tssd.exe
Delete files:
[random string].exe
[random string]tssd.exe
Delete directories:
%Documents and Settings%[UserName]Local SettingsApplication Data[random string]
About the author