Din computer er blevet låst virus. How to remove? (Uninstall guide)
Din computer er blevet låst virus (or Koda virus) belongs to the group of Ukash viruses, famous for FBI virus or FBI Moneypak. This threat is designed for Denmark and should never be trusted because it seeks only to make its users pay the fine of 1000 DKK. In order to trick Danish people, it displays a misleading alert that tries to scare victims into thinking that they have been caught by governmental authorities for their illegal activities. No matter that it shows your IP address, uses your local language, this Koda virus should never be trusted. Instead of falling for all these charges reporting that you have been illegally using and distributing copyrighted content, you should remove Din computer er blevet låst virus from your computer. Note that this may be a hard task because this virus blocks the entire system down and disabled Internet connection.
HOW CAN I GET INFECTED WITH Din computer er blevet låst virus?
Din computer er blevet låst virus comes bundled with seemingly legitimate applications. It can easily be downloaded together with video codecs, flash updates and freeware or shareware. Once it gets inside, it alters some system's settings and locks the system down completely so that you wouldn't be capable to get online and get a remover. If you think that rebooting your PC will help, we have already checked that there is no gap between the login and warning screen. Even Safe mode or safe mode with networking can't help in this situation. Instead of your typical desktop, you will see such alert, written in Danish language:
Din computer er blevet låst
Der er fundet musik, som er ulovligt downloadet (piratkopieret), på din computer.Ved at downloade musikken er den blevet reproduceret, hvilket er en kriminel handling i henhold til Afsnit 106 i Loven om ophavsret.
(…)
Du kan identificeres ved, at din IP-adresse og det tilhørende værtsnavn analyseres.
(…)
Koda er legitimeret ved lov – og I naer kontakt med lovgiverne og Politi.
Before you fall for this alert, think: do official institutions would use such means to collect their fines? Din computer er blevet låst virus is a clear example of the scamware that seeks to get you out of your money. In order to avoid further damage from it, we highly recommend to remove Din computer er blevet låst virus from the PC.
HOW CAN I REMOVE Din computer er blevet låst virus?
If your PC is not disabled and you can get on the Internet, you should download anti-malware program. Try one of these: Plumbytes Anti-MalwareWebroot SecureAnywhere AntiVirus, Reimage, Malwarebytes Anti Malware. If you can't, then follow these tips to get rid of Din computer er blevet låst virus:
* Users infected with Din computer er blevet låst virus are allowed to access other accounts on their Windows systems. If one of such accounts has administrator rights, you should be capable to launch anti-malware program.
* Try to deny the Flash to make your ransomware stop function as intended. In order to disable the Flash, go to Macromedia support and select 'Deny': http://www.macromedia.com/support/documentation/en/flashplayer/help/help09.html. After doing that, run a full system scan with anti-malware program.
* Manual FBI Moneypak removal (special skills needed!):
Reboot you infected PC to 'Safe mode with command prompt' to disable virus (this should be working with all versions of this threat)
Run Regedit
Search for WinLogon Entries and write down all the files that are not explorer.exe or blank. Replace them with explorer.exe.
Search the registry for these files you have written down and delete the registry keys referencing the files.
Reboot and run a full system scan with updated Reimage to remove remaining virus files.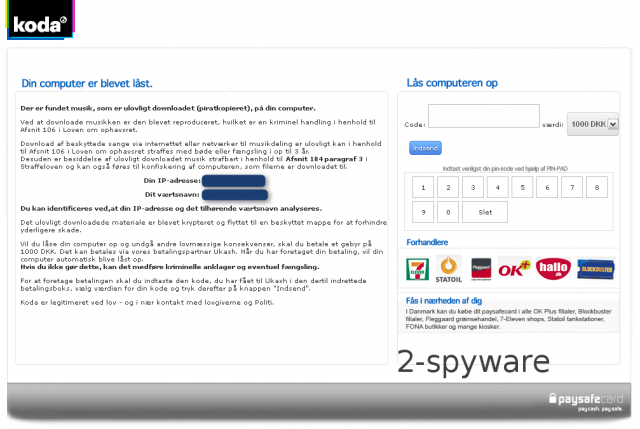 About the author