Download.adobaaon.us pop-up virus. How to remove? (Uninstall guide)
Download.adobaaon.us is yet another advertising platform that is usually used by spammers. In fact, this platform may be closely related to various freewares, potentially unwanted programs, including adwares. In other words, if you are constantly seeing Download.adobaaon.us ads, you should be concerned. It is the first sign that your computer is not safe and that you may have an adware-type program somewhere in your computer. Besides, these ads and pop-ups may look like updates for such well-known programs as Adobe, Flash Player, Java, etc. As you can imagine, these updates are fake. Please do not click Download.adobaaon.us ads or download anything that these fake ads may suggest. If you do so, there is no telling what you may download or where you may be redirected.
How can Download.adobaaon.us hijack my computer?
As far as we know, if your PC is unprotected and if you are not attentive enough to what you are downloading, Download.adobaaon.us virus may easily infiltrate your computer. For that reason, you should carefully choose what programs you need to install. That is because Download.adobaaon.us virus may travel as an additional attachment together with various freewares. You should avoid downloading such questionable programs as Download Manager 2.1, YouTube Downloader, PDF File Converter, etc. Not to mention that you should use only reliable and well-known update sources. Unfortunately, sometimes this unwanted intruder may slip thru your defense and enter your computer unnoticeably. Luckily, we can help you if that happens.
How to remove Download.adobaaon.us pop-up virus?
Don't worry, you just need to check your recently installed programs and try to find the source of Download.adobaaon.us ads. Follow these simple guidelines and you should have no trouble removing this intruder.
Remove the freeware, which is related to Download.adobaaon.us:
1. Click Start → Control Panel → Uninstall a Program.
2. When in the Add/Remove Programs/Uninstall a Program, look for recently installed/unfamiliar applications, such as SaverAddon, SupTab, ShoppingAddon, ValueApps, Lollipop, PriceMeter, Supra Savings, weDownload Manager, Software Updated Version, DP1815, Video Player, Convert Files for Free, BetterSurf, PureLead, Search Assist, Re-Markable, Lollipop, HD-Total-Plus, Safe Saver, Trusted Web, PassShow, LyricsBuddy-1, PureLeads, Media Player 1.1, RRSavings or similar unfamiliar entries.
3. Click 'Uninstall' and then OK to save the changes.
Reset your browsers (Internet Explorer, Mozilla Firefox and Google Chrome):
Internet Explorer:
1. Open Internet Explorer, click the Gear icon or 'Tools' → 'Internet Options'.
2. Here, go to the 'Advanced' tab and click the 'Reset' button.
3. Go to the 'Reset Internet Explorer settings' → 'Delete personal settings' and click on 'Reset' option.
4. Finally, click 'Close' and OK to save the changes.
Mozilla Firefox:
1. Open Mozilla Firefox, go to the 'Help' section → 'Troubleshooting Information'.
2. Here, choose a 'Reset Firefox' for a couple of times and 'Finish'.
Google Chrome:
1. Click the Chrome menu button on the Google Chrome browser, select 'Tools' → 'Extensions'.
2. Here, look for unfamiliar entries.
3. Select each of them and choose Trash can icon to delete them.
Alternate Software
We have tested Malwarebytes's efficiency in removing Download.adobaaon.us pop-up virus (2014-06-17)
We have tested Malwarebytes's efficiency in removing Download.adobaaon.us pop-up virus (2014-06-17)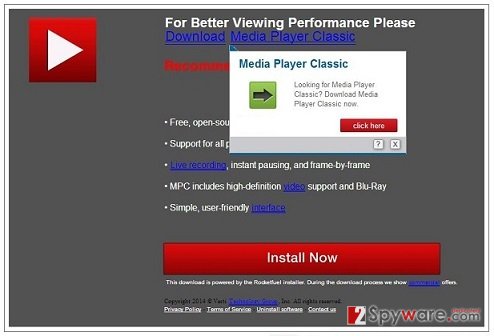 About the author