Dsw.drivertickets.net pop-up virus. How to remove? (Uninstall guide)
Dsw.drivertickets.net ads may completely annoy you every time when you open your internet browser. To begin with, if you see these ads, there is a high possibility that an adware-type program has already entered your computer. Secondly, Dsw.drivertickets.net is recognized as an advertising platform that helps various advertisers and spammers to transmit their commercial content. Thirdly, if an adware, which is related to this advertising platform enters your computer, you may see various misleading notifications (Update your Java now!), strange propositions (Complete a survey and win an iPhone), and questionable notifications (Register to this new online dating website). As you can imagine, you should avoid downloading, participating or register in anything that Dsw.drivertickets.net ads may offer to you.
How can Dsw.drivertickets.net hijack my computer?
It is very likely to get Dsw.drivertickets.net virus when installing unfamiliar freewares, clicking questionable update propositions, or downloading corrupted spam mail attachments. If you are worried about the safety of your computer, we can give you a couple of useful tips. First of all, Dsw.drivertickets.net virus may travel together with freewares and sharewares as an additional attachment. Therefore, you need to check every single program that you want to install. Secondly, before any doubtful installation, try reading end-user license agreement (EULA) section. Thirdly, don't rush the installation. Instead, select 'custom' or 'advanced' installation method and closely follow the entire progress step-by-step. Finally, unmark all doubtful extensions that raises even the slightest suspicion.
How to remove Dsw.drivertickets.net pop-up virus?
If you want to prevent a similar intruder from entering your computer in the future, you should consider installing an anti-spyware program. This manual removal instruction should help you to remove Dsw.drivertickets.net virus from your computer.
Remove the freeware, which is related to Dsw.drivertickets.net:
1. Click Start → Control Panel → Uninstall a Program.
2. When in the Add/Remove Programs/Uninstall a Program, look for recently installed/unfamiliar applications, such as SaverAddon, SupTab, Shopping-Addon, ValueApps, Lollipop, PriceMeter, Supra Savings, weDownload Manager, Software Updated Version, DP1815, Video Player, Convert Files for Free, BetterSurf, PureLead, Search Assist, Re-Markable, HD-Total-Plus, Safe Saver, Trusted Web, PassShow, LyricsBuddy-1, PureLeads, Media Player 1.1, RRSavings or similar unfamiliar entries.
3. Click 'Uninstall' and then OK to save the changes.
Reset your browsers (Internet Explorer, Mozilla Firefox and Google Chrome):
Internet Explorer:
1. Open Internet Explorer, click the Gear icon or 'Tools' → 'Internet Options'.
2. Here, go to the 'Advanced' tab and click the 'Reset' button.
3. Go to the 'Reset Internet Explorer settings' → 'Delete personal settings' and click on 'Reset' option.
4. Finally, click 'Close' and OK to save the changes.
Mozilla Firefox:
1. Open Mozilla Firefox, go to the 'Help' section → 'Troubleshooting Information'.
2. Here, choose a 'Reset Firefox' for a couple of times and 'Finish'.
Google Chrome:
1. Click the Chrome menu button on the Google Chrome browser, select 'Tools' → 'Extensions'.
2. Here, look for unfamiliar entries.
3. Select each of them and choose Trash can icon to delete them.
Alternate Software
We have tested Malwarebytes's efficiency in removing Dsw.drivertickets.net pop-up virus (2014-06-25)
We have tested Malwarebytes's efficiency in removing Dsw.drivertickets.net pop-up virus (2014-06-25)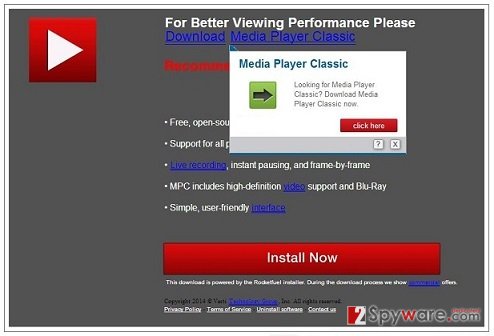 About the author