E-Set Antivirus 2011. How to remove? (Uninstall guide)
E-Set Antivirus 2011 is a rogue security program from the same family as the fake AVG Antivirus 2011. This rogue anti-virus is distributed via fake online scanners mostly appearing on infected websites. These anti-malware scanners offer installing free E-Set Antivirus 2011 which additionally initiates numerous problems for user. Once installed, it will run fake system scan on your computer for viruses and display numerous infections, mostly spyware, adware, Trojans and other malware. E-Set Antivirus 2011 will prompt you to pay for a full version of the program to remove supposedly found malware from your computer. If E-Set Antivirus 2011 has infected your computer you should remove it as soon as possible. It's a scam, so don't purchase it. Instead, please use the removal instructions below to remove E-Set Antivirus 2011 from your computer either manually or with an automatic removal tool. Though it may look trustworthy and legitimate, remember that only those programs that you download from official websites can be trusted.
While E-Set Antivirus is running, it will constantly display fake security alerts and weird pop-ups about non-existent infections in your computer. The main goal of this fake antivirus program is to scare you into thinking that your computer is infected. These fake security alerts will pop up like every two or five minutes and will claim that your computer is under attack or baldy infected with Trojans and other malware that can even steal your passwords and other sensitive information. Here are some of its warnings:
Warning! Active Virus Detected!
Threat Detected: Email-Worm.Zhelatin
Infected file:
Action taken: Application Blocked
Description: Worm Email-Worm.Zhelatin.vy is virus-like malware with destructive code, and is able to mutate, replacing its own code by itself. This makes Email-Worm.Zhelatin.vy very dangerous, hard to find, and difficult to delete. Like most viruses, worm Email-Worm-Zhelatin.vy may spread to other computers by secretly emailing themselves to Internet users in your address book.
Warning!
Virtumonde is an adware program that tends to monitor your Internet browsing habits and may display targeted advertisements onto your computer screen. Virtumonde may also create a malicious DLL file in order to log your keystrokes and send the recorded information to a third party website. Virtumonde is an unwanted application and recommended to be removed.
Warning! Identity theft attempt detected!
Attacker IP:
Attack Target: Microsoft Corp. Keys
Description: Remote host tries to get access to your personal information.
Warning! New virus detected!
Threat Detected: Keylogger.iSnake.Pro
Infected File: C:WINDOWSsystem32asr_ldm.exe
E-Set Antivirus 2011 blocks security related programs and websites to protect itself from being removed. It hijacks Internet Explorer and redirects users to various misleading websites full of Ads.
E-Set Antivirus 2011 is nothing more but a scam. It goes without saying that you should remove it from your computer upon detection. Full details on how to remove E-Set Antivirus 2011 are outlined below. We strongly recommend you to scan your computer with legitimate anti-spyware program to completely remove the rogue program and any related malware from your computer.
Alternative Software
Different security software includes different virus database. If you didn't succeed in finding malware with Reimage, try running alternative scan with SpyHunter.
Alternative Software
Different security software includes different virus database. If you didn't succeed in finding malware with Reimage, try running alternative scan with Combo Cleaner.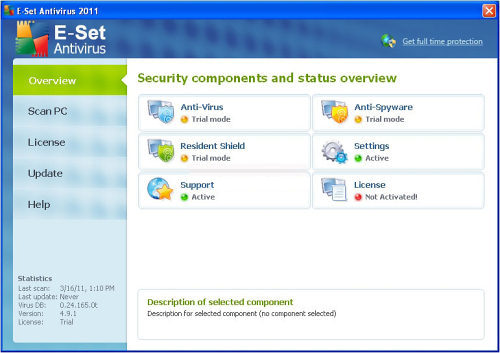 About the author

March 29th, 2011 at 6:03 am

Very easy and quick…thank you so much, I was about to go to Best Buy and have them fix it. Save the money.


April 5th, 2011 at 1:04 pm

Thanks for the help…I'm still not able to open my internet explorer browser on my laptop…do you know anything that could help?


May 2nd, 2011 at 5:05 pm

Try a arestore AFTER you use the removal tool


May 3rd, 2011 at 11:05 am

best buy is junk and way over priced, just reinstall ie8 or ie9 depending upon OS version.


March 21st, 2012 at 6:56 am

Rogue AV is easy to recgonize.
1. Not too simailar to original Antivirus
2. Detects many viruses
3. Blocks many safe sites, like Google and Bing.
4. Some of them cant be deleted by restore-to-date
5. Block safe files like coreldraw.