Earth AV. How to remove? (Uninstall guide)
Earth AV is a rogue anti-spyware program from the same family as Green AV. It is promoted through the use of Trojans that pretend to be flash player updates that are required to watch online videos. The rogue program is also promoted via fake online scanners and other malware. It may even enter the system though system vulnerabilities. Once installed, the program will state that your computer is infected with malware but won't remove the infections until you first purchase it. In reality, the rogue program detects harmless files that do not pose any risk to your computer. Thus its scan results can be safely ignored.
While running, Earth AV will also display fake security alerts and pop-ups on your Desktop. These fake alerts will state that active malware has been found and that your sensitive information can be stolen. It will also state that your computer is under attack from a remote computer. Just like the scan results, these fake warnings should be ignored. EarthAV wants to make you think that your computer is badly infected and that you should pay for a full version of the program to remove the infections which don't even exist.
It goes without saying that Earth AV is a scam. Don't purchase it! If you have already purchased the program, then please contact your credit card company and dispute the charges. Finally, please follow the remove instructions below to remove Earth AV and any related malware from your PC as soon as possible.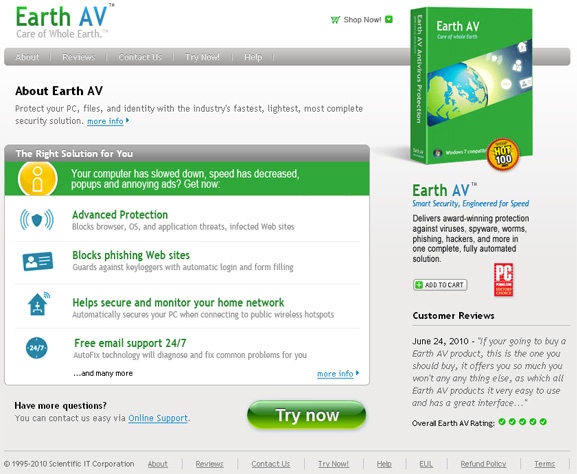 Earth AV manual removal:
Delete files:
Earth AV.lnk
Base.dat
msdl.exe
msll.exe
vec.exe
WStech.dll
gsl.dll
ergui.exe
ErV_paid.exe
Delete directories:
%Documents and Settings%All UsersStart MenuPrograms
%Documents and Settings%All UsersDesktop
%Documents and Settings%All UsersApplication Data
c:Documents and SettingsAll UsersApplication Dataeav
c:Documents and SettingsAll UsersApplication DataMicrosoftMachine
c:Documents and SettingsAll UsersStart MenuPrograms Earth AV
%APPDATA%mozillafirefoxprofiles
About the author