Easy Scan. How to remove? (Uninstall guide)
Easy Scan is a fake computer defragmentation program that displays false information to make you think that your computer has some hard drive and registry errors. The rogue program is installed via trojans and fake online scanners or other misleading websites. Easy Scan displays fake error messages when you attempt to launch programs. The rogue makes it seem like your computer is not operating correctly. If you attempt to launch a program it will terminate it and state that the program or hard drive is corrupted. The messages that you will see when you attempt run a program are:
Windows detected a hard drive problem.
A hard drive error occurred while starting the application.
While Easy Scan is running, it will display many fake error messages and alerts saying that your hard drive is missing or corrupted. The text of some of the alerts you may see include:
Critical Error!
Damaged hard drive clusters detected. Private data is at risk.
Critical Error
Hard Drive not found. Missing hard drive.
Critical Error
RAM memory usage is critically high. RAM memory failure.
As you can see, Easy Scan is a scam.Do not purchase Easy Scan. If you have already purchased it, please contact your credit card company and dispute the charge. Then use the removal instructions below to remove Easy Scan and related malware from your computer.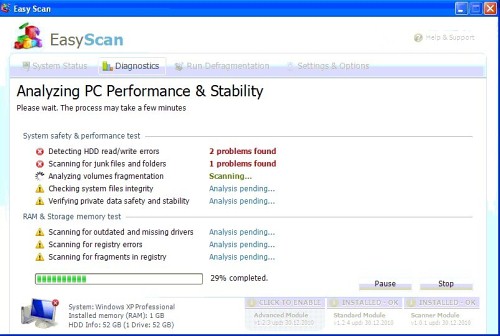 Easy Scan manual removal:
Kill processes:
[random].exe
Unregister DLLs:
[random].dll
Delete files:
[random].exe
About the author