Error Repair Professional virus. How to remove? (Uninstall guide)
Error Repair Professional Virus is another PC optimization tool, which shouldn't be trusted. No matter that it claims that it could help for you to eliminate hidden errors inside the PC, this program is fake and can't repair anything. In reality, this program mimics registry's auditing activities and then returns forged results about the registry errors. The one and only reason, why it has been released, is the money, which is asked for computer's repair services. Please, do not fall for spending your money on this program because you will lose it this way! Besides, scammers may try to steal your credit card details and use them for extorting more money from you. We highly recommend to remove Error Repair Professional Virus as soon as it starts appearing on your computer's desktop.
HOW CAN I GET INFECTED WITH Error Repair Professional Virus?
If we take a closer look at Error Repair Professional Virus distribution, we will see that it gets inside the system not only when it gets user's permission. This fake PC optimization program is spread via its official website, but it can also infect the PC without any permission asked in a bundle with other programs and files. Besides, some users have also reported that they have found this fake registry optimizer after visiting illegal or hacked website. Once it manages to get inside the system, Error Repair Professional Virus modifies the system and starts showing its invented errors that claim about serious issues detected. In reality, most of the issues that are reported by Error Repair Professional virus are invented by the same program and should never be trusted. Besides, this program may also report about typical computer's errors that can never be eliminated. If you don't want to lose your money, you must ignore its errors and remove this fake PC optimization tool
HOW TO REMOVE Error Repair Professional Virus?
In order to remove Error Repair Professional virus from your computer, you can try doing that manually:
Click the 'Start' button -> 'Control Panel' -> 'Programs' -> 'Programs and Features'

Select Error Repair Professional and then click 'Uninstall'.
Finally, if you haven't installed this program manually, you have to run a full system scan with updated anti-spyware. Try using Reimage for that and delete all infected files that will be detected by it.
Alternate Software
We have tested Malwarebytes's efficiency in removing Error Repair Professional virus (2013-04-23)
We have tested Malwarebytes's efficiency in removing Error Repair Professional virus (2013-04-23)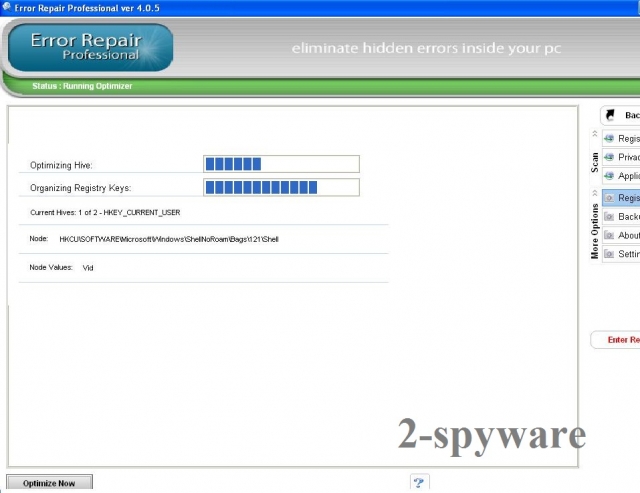 Error Repair Professional virus manual removal:
Kill processes:
[random].exe
Delete files:
[random].exe
About the author