Eu-security-dangerous-alert-01.in virus. How to remove? (Uninstall guide)
removal by Jake Doevan
-
- Also known as
Eu-security-dangerous-alert-01.in hijack
| Type:
Viruses
What is Eu-security-dangerous-alert-01.in?
Eu-security-dangerous-alert-01.in is a malicious website, which can easily lock your web browser (Internet Explorer, Google Chrome, Mozilla Firefox, etc) down. After doing so, it displays a huge warning message that informs the victim that he/she needs to pay a fine for various law violations. You may be informed about the use of copyrighted content or pornographic material, distribution of malware and similar invented crimes. For making it more genuine, this site takes over victim's webcam and shows what is happening in the room as well. Nevertheless, no matter how convincing it looks, this website has nothing to do with these government authorities that it represents. It's just a site that was filled with a malicious javascript that blocks you from switching to another website or simply closing this website. So, you should never fall into believing that you have just been blocked for law violations and now you have to pay a fine of $300 because making the payment is the same as giving your money to scammers. Here, we must say that this browser hijacker looks very similar to such ransomwares as FBI virus, Interpol virus, Department of Justice virus, Police Central e-crime Unit virus and many other ones. These threats have been spreading around for more than two year, so there is no surprise that now, after being updated, they decided to come back. If your web browser has recently been blocked, you should waste no time and end it (this can be done using Task manager). After doing so, you should scan your computer with the reputable anti-spyware and make sure that your computer is free of malicious files that could be related to Eu-security-dangerous-alert-01.in virus. For that we highly recommend using Reimage.
How can Eu-security-dangerous-alert-01.in hijack my browser?
You can be tricked into visiting this or other malicious websites thru fake alerts that report about missing updates and similar things. You may be informed that you need to update your flash player, flv player, one of your web browsers, download manager or similar programs. Of course, these alerts are malicious and are displayed during your browsing on the web just for tricking you into downloading malicious or potentially unwanted programs, such as unsafe web browser plugins, add-ons, extensions and toolbars. Of course, you may also visit Eu-security-dangerous-alert-01.in voluntarily but under no circumstances you should visit this domain. If your web browser is already locked and you are looking at this alert when trying to leave this domain, please, follow a guide below to fix your computer:
Are you sure you want to leave this page?
Message from webpage:
YOUR BROWSER HAS BEEN BLOCKED UP FOR SAFETY REASONS.
ALL PC DATA WILL BE DETAINED.
ALL YOUR FILES ARE ENCRYPTED.

YOUR BROWSER HAS BEEN BLOCKED UP. Leave this page or Stay on this page.
How to remove Eu-security-dangerous-alert-01.in virus?
When trying to unblock your web browser and leave Eu-security-dangerous-alert-01.in malicious website, the first thing that you should do is to cancel your web browser. For that you should use these steps:
Click Ctrl+Alt+Del at the same time.
Here, look for a process of your blocked web browser (chrome.exe, iexplore.exe, safari.exe, firefox.exe, opera.exe).
Click End process to save these changes.
After doing so, run a full system scan with Reimage, Malwarebytes Malwarebytes or Plumbytes Anti-MalwareNorton Internet Security.
Alternate Software
We have tested Malwarebytes's efficiency in removing Eu-security-dangerous-alert-01.in virus (2015-02-09)
We have tested Malwarebytes's efficiency in removing Eu-security-dangerous-alert-01.in virus (2015-02-09)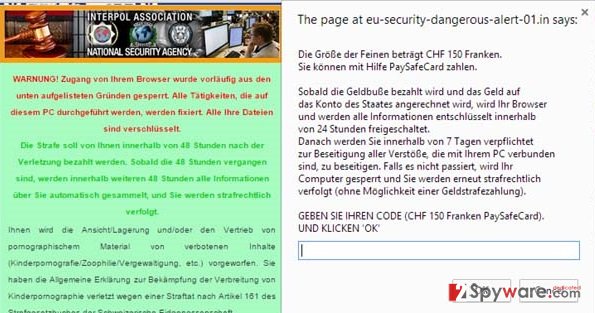 About the author
Removal guides in other languages