European Law Enforcement agency virus. How to remove? (Uninstall guide)
European Law Enforcement agency virus (also called as Europol virus) is the ransomware infection, which actively bombards users and locks their computers down. To be more precise, it belongs to Ukash group of viruses that have proved for everyone how tricky computer viruses can be. Just like any other previously released infection, Europol virus tries to swindle the money. However, seeking this aim it pretends to belong for an official authority (European Law Enforcement agency) and claims that it has detected illegal activity on user's PC. This infection uses a special warning message, which disables the entire system and replaces user's desktop with a list of various crimes that were supposedly done by a user. Additionally, it asks to pay the fine via Paysafecard or Ukash prepayment systems in order to avoid more serious problems, such as getting into jail. Before you go to the nearest supermarket and pay this 'fine', you should know that there is no such official authority, which would use such methods to collect their fines. In order to unlock your computer, you should simply remove Europol virus from your computer.
HOW CAN I GET INFECTED WITH EUROPOL?
European Law Enforcement agency virus enters computers when users tend to download freeware, shareware, spam emails and their attachments or when they click on malicious links without thinking. Of course, the latest versions of anti-malware programs could stop it from infiltration. Once inside and active, it alters system's settings, drops its own files and finally displays a misleading notification that has already fooled many PC users. This message reads:
Your PC is blocked due to at least one of the reasons specified below:
Your computer has been trying to download and/or to install pirated software or multimedia files protected by international laws and has been blocked According to EU legislation you are required to pay 100 EUR administrative fees if this is the first time you have violated the copyright law. Downloading, installing and distributing Such materials is highly punishable and may leave a long lasting effect on your job and on your friends and relatives, if we don't receive a payment within 48 hours your personal information will be Sent TO your local police authorities. Your hardware used for distribution of pirated software will be confiscated and you will be arrested, charged and convicted for up to 5 years in prison time and registered as a thief for the rest of your life.
To help you make your payment faster and totally anonymous to you, we decided to accept vouchers that are spread nationwide and can be purchased in all major stores.
Eli Legislation p. 163.1 131 Every person who transmits, makes available, distributes, sells, advertises, imports, exports or possesses for the purpose of transmission, making available, distribution, sale, advertising or exportation any illegal software files is guilty of an indictable of fence and liable to imprisonment for a term not exceeding ten years and to a minimum punishment of imprisonment for a term of five years.
Additionally, this scary warning asks to pay the fine of 100 euro and enter Ukash or Paysafecard voucher into the special line placed in the right side of the warning. Before you do that you should understand that you're simply being tricked by the virus makers and paying the money would be a huge mistake. We highly recommend doing two things: ignore this misleading warning and remove Europol virus from your computer.
HOW CAN I REMOVE EUROPOL VIRUS?
When trying to remove Europol virus, the most serious problem is that you are blocked from getting on the Internet. In order to unblock the system, follow these options:
* Flash drive method:
1. Take another machine and use it to download SpyHunterCombo Cleaner, Reimage or other reputable anti-malware program.
2. Update the program and put into the USB drive or simple CD.
3. In the meanwhile, reboot your infected machine to Safe Mode with command prompt and stick USB drive in it.
4. Reboot computer infected with Ukash virus once more and run a full system scan.
* Users infected with Ukash viruses are allowed to access other accounts on their Windows systems. If one of such accounts has administrator rights, you should be capable to launch anti-malware program.
* Try to deny the Flash to make your ransomware stop function as intended. In order to disable the Flash, go to Macromedia support and select 'Deny': http://www.macromedia.com/support/documentation/en/flashplayer/help/help09.html. After doing that, run a full system scan with anti-malware program.
* Manual Ukash virus removal:
Reboot you infected PC to 'Safe mode with command prompt' to disable Ukash virus (this should be working with all versions of this threat)
Run Regedit
Search for WinLogon Entries and write down all the files that are not explorer.exe or blank. Replace them with explorer.exe.
Search the registry for these files you have written down and delete the registry keys referencing the files.
Reboot and run a full system scan with updated Reimage, SpyHunterCombo Cleaner or Malwarebytes Malwarebytes to remove remaining virus files.
Alternative Software
Different security software includes different virus database. If you didn't succeed in finding malware with Reimage, try running alternative scan with SpyHunter.
Alternative Software
Different security software includes different virus database. If you didn't succeed in finding malware with Reimage, try running alternative scan with Combo Cleaner.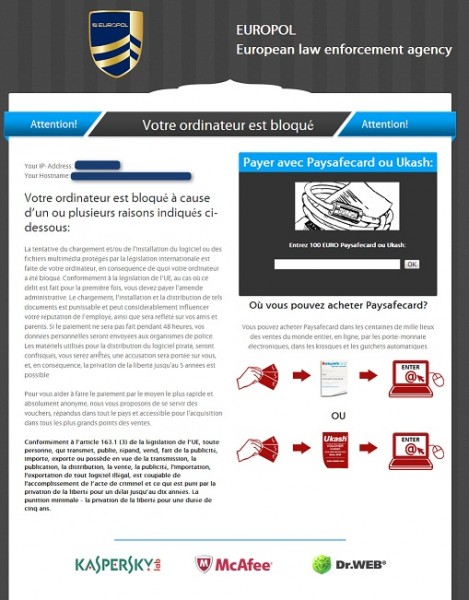 About the author
Removal guides in other languages