FaceSmooch virus. How to remove? (Uninstall guide)
FaceSmooch virus is an adware, which typically gets inside the system in a bundle with freeware and shareware. Once it gets inside, it offers for Facebook users to include various smilies, emotion icons and similar animated elements into their chat. However, these smilies can be seen by friends only when they have the same adware installed. Besides, it shows annoying pop-up ads that continuously reroute users to affiliated websites and may install FaceSmooch toolbar on PC without any permission asked. Well, it hasn't been found that this program includes a malicious code. However, its unfair way of distribution and annoying pop-up advertisements initiate various discussions on security forums. If you haven't installed it by yourself, we highly recommend removing FaceSmooch virus from your computer. Otherwise, you may be redirected to unwanted site or find unwanted system changes that were made without any permission asked.
HOW CAN I GET FaceSmooch virus ON MY PC?
FaceSmooch virus can be downloaded from its official site as a browser's add-on. However, it can also come inside the system in a bundle with freeware and shareware. You may download such program if you don't pay enough attention to the software's installation process and forget to unclick unfamiliar entries there. As soon as this application gets inside, it settles down on Internet Explorer and Mozilla Firefox Internet browsers. Besides, you may be offered to install a toolbar with a same name, which will continue showing pop-up ads with 'competitive prices', coupons and other online content, which is not very likeable for most of PC users. Please, do not let FaceSmooch Virus stay on your computer. If you haven't installed it, use automated security programs to check your PC for malicious entries.
HOW TO REMOVE FaceSmooch virus?
When infected with FaceSmooch virus, first thing that must be done is to check your PC for malicious entries. In this case, we recommend using Reimage after updating. After eliminating infected files, make sure you follow these steps in order to fix your PC completely. For that, follow these steps:
Click Start – > Control Panel -> Select Add or Remove Programs. Here, select the program you want to remove (FaceSmooch in this case) and click Remove.
Internet Explorer:
Open Internet Explorer, go 'Tools' -> "Manage Add-ons' -> 'Toolbars and Extensions'. Here, look for FaceSmooch and click 'uninstall'. Now open IE once again and click Tools -> Internet Option -> General tab. Enter Google or other address to make it the default start page.
Mozilla Firefox:
Open Mozilla Firefox, go 'Tools' -> 'Add-ons' -> 'Extensions'. Find FaceSmooch and click 'Uninstall'. Now open Mozilla Firefox once more, go to Tools -> Options -> General -> Startup and select 'Show a blank page' when Firefox Starts or set a certain website, like Google or similar.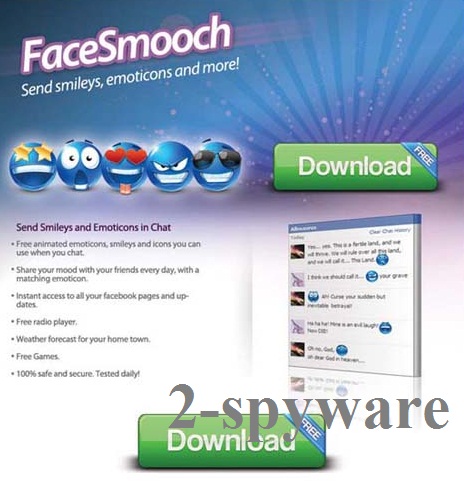 About the author