File Recovery. How to remove? (Uninstall guide)
File Recovery is a freshly released Fake PC optimization tool that seems to be created to replace Data Recovery scamware that has been actively working past months. File Recovery virus should never be kept on the system because it leads computer to continuous problems connected to data loss, other programs failure and system slow downs. Keep in mind that this program is FAKE and it should be eliminated as soon as you find it on your computer. As soon as it gets there, it starts displaying annoying alerts and scanners reporting about the problems found on your hard disk, ram, registry and GPU. File Recovery virus will additionally offer you to purchase its licensed version as a tool capable to fix everything. Instead of doing that, we highly recommend to remove File Recovery virus and forget these problems because they are all invented and fake.
HOW CAN I GET INFECTED WITH FILE RECOVERY?
File Recovery virus uses various ways when it decides to enter the system – it tends to infect PCs via older Java versions, Flash or PDF reader updates or fake video codecs. Besides, it can easily use trojans capable to get through security holes found. All this is done secretly for the user and do not even require your permission. As soon as it gets inside, malicious File Recovery will start together with every reboot of your system and will display such or similar alerts and scanners:
Hard drive boot sector reading error

System blocks were not found

Error 0x00000024 – NTFS_FILE_SYSTEM

Error 0x00000078 – INACCESSIBLE_BOOT_DEVICE

Error 0x0000002E – DATA_BUS_ERROR

Error 0x00000050 – PAGE_FAULT_IN_NONPAGED_AREA

The DRM attribute value is too small before disk scan
System blocks were not found
This is most likely occurred because of hard disk failure.
This may also lead to a potential loss of data.

Hard Drive Boot Sector Reading Error
During I/O system initialization, the boot device driver might have failed to initialize the boot device. File system initialization might have failed because it did not recognize the data on boot device.
Be sure that these Hard disk failures, RAM and registry problems are nothing but invented issues that should never be taken as serious. Besides, this malware offers you to run some hard drive scanners that can easily be predetermined to report about the same pre-set errors. However, though it seems to be trustworthy, File Recovery is nothing but useless program that seeks to get your money for its invented 'repair' services. We highly recommend not to pay for its licensed and remove File Recovery virus instead.
HOW TO REMOVE FILE RECOVERY VIRUS?
Firstly, you should kill File Recovery processes by using Reimage, Process Explorer or Rkill. If you are disabled from getting online, reboot your infected PC to safe mode with networking first. In addition, you should also scan your computer fully when in normal mode as well.
In addition, run Malwarebytes MalwarebytesCombo Cleaner and Reimage to remove all rootkit infections and File Recovery files.
If you can't launch these programs, enter this registration code frst to make your virus think you have purchase licensed version: 08869246386344953972969146034087. Run a full system scan with SpyHunter after that to remove all infected files.
The latest parasite names used by FakeHDD:
[newest id="fakehdd"]
UPDATE: Some security experts report about identically-looking virus, which is called File Restore. If you are reported by File Restore program that 'your computer is in critical state. Hard disk error detected.', keep in mind that you are under the attack of virus. You can use the same removal guide to remove File Restore from your computer.
Alternative Software
Different security software includes different virus database. If you didn't succeed in finding malware with Reimage, try running alternative scan with Malwarebytes.
Alternative Software
Different security software includes different virus database. If you didn't succeed in finding malware with Reimage, try running alternative scan with Combo Cleaner.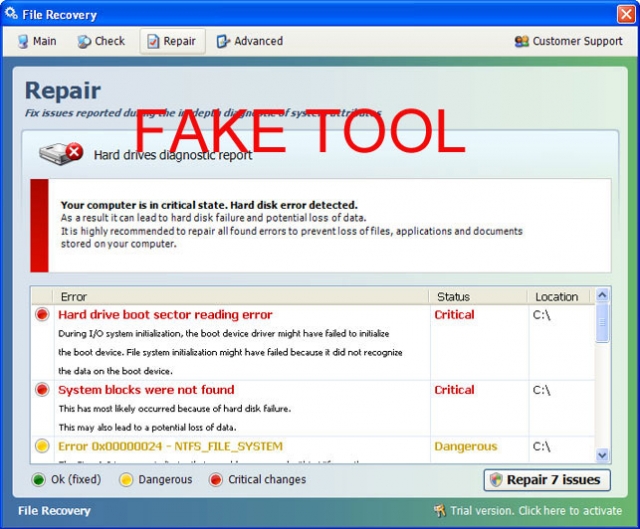 About the author
Removal guides in other languages