Fine Has Been Paid virus. How to remove? (Uninstall guide)
removal by Jake Doevan
-
- Also known as
Fine Has Heen Paid. Your Case Has Been Closed virus, Ukash virus, Police virus
| Type:
Ransomware
Fine Has Been Paid virus is a dangerous ransomware, which can also be called as FBI virus. Just like any other ransomware, it can show up on your PC out of nowhere and immediately, without any break, locks down the system. When users see a notification "Fine Has Been Paid. Your Case Has Been Closed", it means that they have been convinced to pay this nonexistent fine, which is required from those who are infected with FBI virus. However, no matter that it may look that this payment will help you start using your PC as previously, it seems that Fine Has Been Paid virus still blocks the access to all files and programs that are kept on the system. Besides, it also seeks to swindle more money from users and asks you to pay $450 by using MoneyPak money transfer system. We highly recommend ignoring fake alerts from governmental authorities and eliminating malicious files from the system. This is the only way to remove FBI virus and Fine Has Been Paid virus from the system.
HOW CAN Fine has been paid virus APPEAR ON MY COMPUTER?
Fine has been paid virus is typically distributed by trojan horse, which can easily infiltrate poorly protected systems if they are not protected as they should be. As soon as it gets inside, it locks computer down and displays a fake warning from FBI. Of course, this notification is totally misleading and belongs to cyber criminals that seek to make people pay an invented fine. Typically, it is asked for spreading malware, using copyrighted content and initiating similar crimes. If user falls for this trickery, he/she starts seeing "Fine has been paid. Your case has been closed. " alert, which reports something like this:
FINE HAS BEEN PAID. YOUR CASE HAS BEEN CLOSED
YOU CAN PAY $450 PROCESSING FEE TO DELETE ALL CRIMINAL RECORDS.
Your device/computer has been blocked due to at least one of the reasons specified below.You have been subjected to violation of Copyright and Related Rights Law (Video, Music, Software) and illegally using or distributing copyrighted contents
(…)
If you see such warning, your computer is infected. We highly recommend eliminating it from affected PC system as soon as possible. For that, you should follow this Fine Has Been Paid virus removal guide.
HOW TO REMOVE FINE HAS BEEN PAID VIRUS?
When infected with Fine Has Been Paid virus, there is a huge possibility that you paid an invented fine and virus is still inside your computer. For removing it, you should run a full system scan with anti-malware and remove malicious files. If you are blocked and can't launch any program, follow these steps and unlock your computer.
* Manual Fine Has Been Paid virus removal:
Reboot you infected PC to 'Safe mode with command prompt' to disable virus (this should be working with all versions of this threat)
Run Regedit
Search for WinLogon Entries and write down all the files that are not explorer.exe or blank. Replace them with explorer.exe.
Search the registry for these files you have written down and delete the registry keys referencing the files.
Reboot and run a full system scan with updated Reimage to remove leftovers of this virus. You can also try Malwarebytes or Plumbytes Anti-MalwareNorton Internet Security.
* Flash drive method:
Take another machine and use it to download Reimage or other reputable anti-malware program.
Update the program and put into the USB drive or simple CD.
In the meanwhile, reboot your infected machine to Safe Mode with command prompt and stick USB drive in it.
Reboot computer infected with Fine Has Been Paid virus once more and run a full system scan.
* Users infected with Fine Has Been Paid virus are allowed to access other accounts on their Windows systems. If one of such accounts has administrator rights, you should be capable to launch anti-malware program.
* Try to deny the Flash to make your ransomware stop function as intended. In order to disable the Flash, go to Macromedia support and select 'Deny': http://www.macromedia.com/support/documentation/en/flashplayer/help/help09.html. After doing that, run a full system scan with anti-malware program.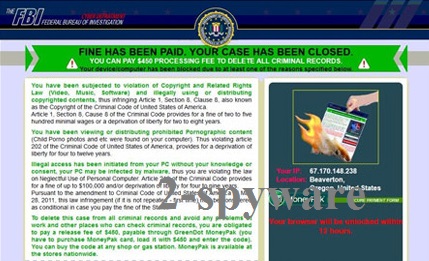 About the author