Flash Savings virus. How to remove? (Uninstall guide)
Flash Savings (also known as Flash-Savings) is an application that should display coupons, comparison deals, discounts and help you to save money while you buy items online. However, if you read its privacy policy section, you may notice that it is yet another ad-supported application. That is why security vendors recognize Flash Savings as an adware. This dubious application is capable of entering your computer behind your back and generate intrusive advertisements. In fact, the main purpose of such adware is to redirect online traffic to various sponsored websites. Don't let this useless adware infect your computer and influence your browsing experience. If you have even the slightest suspicion that similar unwanted program may hide in your system, don't hesitate and check whether your computer is safe enough.
How can Flash Savings hijack my computer?
Developers of such adwares are very inventive, and they usually rely on tricky marketing methods. As we have mentioned before, Flash Savings virus is promoted as an application that should display coupons and help you to save some money. However, developers are not saying that you may also experience some side-effects, such as tons of annoying advertisements. This application may also enter your computer without even noticing you about its presence. Flash Savings ads may happen right after installing a freeware from a questionable website. This application is compatible with Google Chrome, Internet Explorer and Mozilla Firefox; however, even if you are using another browser, you should be careful. These adwares usually have many modifications in order to affect as much internet users as possible.
How to remove Flash Savings virus from my computer?
Here is a statement from its privacy policy section: "The Plugin currently displays several basic types of advertising: (1) sponsored links, (2) traditional display advertisements, such as banner ads, "pop-unders" and interstitial ads, (3) coupons, and (4) video targeted ads. The sponsored links may sometimes appear as in-text advertising. Sponsored links may also be displayed in response to keyword searches you enter through Google, Bing and other search engines.". Don't let this dubious application act on its own and ruin your browsing experience. Follow these guidelines and stop Flash Savings redirects from happening.
Remove Flash Savings from your computer:
1. Click Start → Control Panel → Uninstall a Program.
2. When in the Add/Remove Programs/Uninstall a Program, look for recently installed/unfamiliar applications, such as Flash Savings, SaverAddon, SupTab, WebSaver, Shopping-Addon, ValueApps, Lollipop, PriceMeter, Supra Savings, weDownload Manager, Software Updated Version, DP1815, Video Player, Convert Files for Free, BetterSurf, PureLead, Search Assist, Re-Markable, Lollipop, HD-Total-Plus, Safe Saver, Trusted Web, PassShow, LyricsBuddy-1, PureLeads, Media Player 1.1, RRSavings or similar unfamiliar entries.
3. Click 'Uninstall' and then OK to save the changes.
Reset your browsers (Internet Explorer, Mozilla Firefox and Google Chrome):
Internet Explorer:
1. Open Internet Explorer, click the Gear icon or 'Tools' → 'Internet Options'.
2. Here, go to the 'Advanced' tab and click the 'Reset' button.
3. Go to the 'Reset Internet Explorer settings' → 'Delete personal settings' and click on 'Reset' option.
4. Finally, click 'Close' and OK to save the changes.
Mozilla Firefox:
1. Open Mozilla Firefox, go to the 'Help' section → 'Troubleshooting Information'.
2. Here, choose a 'Reset Firefox' for a couple of times and 'Finish'.
Google Chrome:
1. Click the Chrome menu button on the Google Chrome browser, select 'Tools' → 'Extensions'.
2. Here, look for unfamiliar entries, such as Flash Savings.
3. Select each of them and choose Trash can icon to delete them.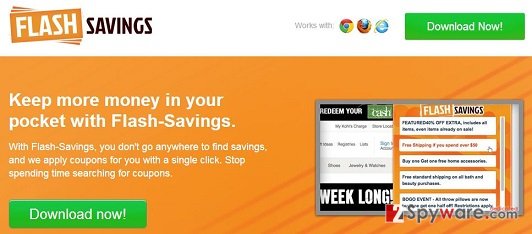 About the author