Freeantivirusglobe.com. How to remove? (Uninstall guide)
Freeantivirusglobe.com is a malicious website, which must be avoided. That's because it promotes dangerous software, which belongs to unfair Indian company, known as Secure Bit Technologies. Please, stay away from this program because it will bombard you with its fake system scanners and misleading notifications offering to purchase Free Antivirus 3.3. Besides, if not purchased, this malware will block your PC's desktop in order to make you call its online PC Support Helpline. It's obvious that SecureBit Technologies use unfair marketing practices. Please, stay away from Freeantivirusglobe.com and remove Securebit Technologies virus as soon as possible. According to security experts, victim has 10 minutes to stop computer's lock down and remove this sneaky infection from the system. If you haven't managed to get rid of this threat on time and now your PC's desktop is blocked, you should terminate malicious Securebit Technologies virus process on Task Manager.
HOW CAN I ENTER Freeantivirusglobe.com?
Freeantivirusglobe.com can be entered accidentally when browsing on the Internet. However, you should also beware that you may be redirected to this site against you will. If you have noticed that, you should leave this page immediately and also run a full system scan with your anti-spyware to check your PC for browser hijacker virus. If it gets inside, Securebit Technologies virus starts acting like a normal security software: it runs a full system scan and reports about hundreds of threats detected. Note that after checking a brand new system with this software, we have also received alerts about invented viruses. Additionally, malware offers to purchase its nonexistent license and remove 'viruses' from the system. The new thing is that Securebit Technologies virus gives only ten (sometimes even two) minutes and then 'locks' its target computer down. Please, stay away from freeantivirusglobe.com because it clearly belongs to scammers who seek to make users pay for the nonexistent licensed version! If you have been tricked into downloading the free software from this page, you must uninstall it ASAP.
HOW TO REMOVE SECUREBIT TECHNOLOGIES VIRUS?
If you have been tricked on freeantivirusglobe.com to download Securebit Technologies virus, your PC is infected. In order to remove it, we recommend runinng a full system scan with Plumbytes Anti-MalwareWebroot SecureAnywhere AntiVirus, Reimage. If your PC's desktop has been blocked, open Task Manager at first and terminate malicious Securebit Technologies virus file.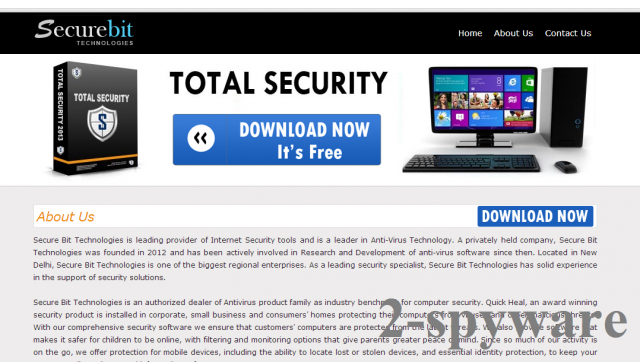 Freeantivirusglobe.com manual removal:
Kill processes:
[random characters].exe
Delete files:
[random characters].exe
About the author
Removal guides in other languages