French Ukash virus. How to remove? (Uninstall guide)
French Ukash virus is nothing else but a serious problem for its victim. It belongs to Ukash virus group where all its members are categorized as 'ransomware'. They all display a misleading notifications that claims that user must pay 100 euros to rescue his OS. Before this French Ukash virus version shows this alert, it completely hacks victim's desktop and locks the system down so that he/she is incapable to do anything on the computer. Be sure that if you see an alert saying 'Sur votre ordinateur est infect? par cheval de Troie fenetres casier. Ce programme a bloque l'acces a tous a tous les fichiers et supports amovibles sur votre ordinateur', be sure that it is one of Ukash viruses that are especially active at the moment.
HOW CAN I GET INFECTED WITH THIS FRENCH UKASH VIRUS?
Just like other Ukash viruses, this threat gets inside the PC through security exploits on various websites. Of course, it can also use spam emails and malvertising campaigns.As you must have already realized, this French speaking ransomware is set to attack French speaking countries. As soon as it gets inside the system, it hacks the desktop and disables all removable media on the PC. In addition, it typically claims that you have violated various laws and now have to pay the fine through Ukash prepayment system in order to unlock the PC. However, that's the way how scammers seek to get you out of your money. We highly recommend NOT to pay this fine because it won't unlock the system.
'Sur votre ordinateur est infecte' virus REMOVAL INSTRUCTIONS
In order to remove 'Sur votre ordinateur est infecte' virus, ypu should firstly unlock your computer. In addition, use automated removal programs, such as Reimage, Malwarebytes Malwarebytes or Plumbytes Anti-MalwareNorton Internet Security. In order to unlock your PC, follow these steps first:
Take another computer and download Sphunter or other reputable anti-malware program with it.
Update the program and put it into your USB drive or simply burn a CD disk.
While the CD burns or USB drive get's the information, reboot your infected machine to Safe Mode with Command Prompt (by pressing F8 on boot) and then stick the prepared USB drive or put the CD disk in it.
Reboot the infected computer once more and run a full system scan with the program you downloaded.
Alternate Software
We have tested Plumbytes Anti-Malware's efficiency in removing French Ukash virus (2013-09-24)
We have tested Malwarebytes's efficiency in removing French Ukash virus (2013-09-24)
We have tested Hitman Pro's efficiency in removing French Ukash virus (2013-09-24)
We have tested Malwarebytes's efficiency in removing French Ukash virus (2013-09-24)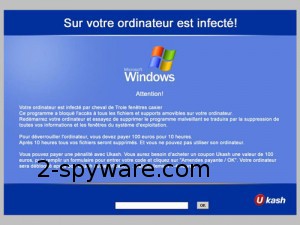 About the author
Removal guides in other languages