Ghost Antivirus. How to remove? (Uninstall guide)
Ghost Antivirus is a fake security tool which uses aggressive malicious techniques trying scam users' money. Because of this tactics, GhostAntivirus is also hard to remove just like its successor called Internet Antivirus Pro. However, it is possible when using a reputable anti-spyware program or removal instructions, written in the bottom of the page.
Ghost Antivirus loads fake system scanners when installed. It displays exaggerated scan results with tons of worms, Trojans and other spyware "detected" after checking. This application typically shows fake alerts about a critical security level such as "Serious security and privacy threats found on your computer!" and using such messages tries to convince PC users that they really have security problems on their PCs. Finally, as a solution for fixing everything and deleting all these cyber threats, Ghost Antivirus directs victims to purchase its "full' version. However, wasting your money in such a way is not recommended! All the files, reported by Ghost Antivirus as infections, in reality are legitimate Windows files, so their removal can even affect a proper operation of your PC.
Ghost Antivirus attacks compromised machines with trojans and fake online anti-malware scanners help that usually are met on insecure websites. There are tens of domains that are known to be bonded with this malware:
93.190.140.165 Softwareanti com
93.190.140.165 Softwarejar com
93.190.140.165 Softwarerising com
93.190.140.165 Softwaresecure net
93.190.140.165 Softwarespyware net
93.190.140.165 Softwarethe net
93.190.140.165 Softwarethreats com
93.190.140.165 Softwarethreats net
93.190.140.165 Softwarexp net
93.190.140.165 Softwarespam net
93.174.95.194 Ghost-antivirus com
93.174.95.194 Ghost-pay com
93.174.95.194 Ghostantivirus com
93.174.95.194 Ghostpays com.
When downloaded and installed, GhostAntivirus firstly protects itself by disabling Task Manager and also installing other malware which has a filename onin.exe, created in various paths under Windows folder. Because of these actions, people additionally find themselves enabled to end processes of Ghost Antivirus and access Windows desktop or any other program existing on it. Ghost Antivirus also stops all the legit security programs found and modifies Internet browser to a fake website pretending to be Windows Explorer.
It must be clear that Ghost Antivirus seeks only to mislead users into purchasing its "full" version. This ransom ware should not be purchased in any circumstances and must be removed once after detection. Contact your credit card immediately if you have already purchased Ghost Antivirus. Dispute the charges and delete every file connected to this malware. A reputable anti-spyware is highly recommended when you find this malware on your computer. Remove Ghost Antivirus ASAP.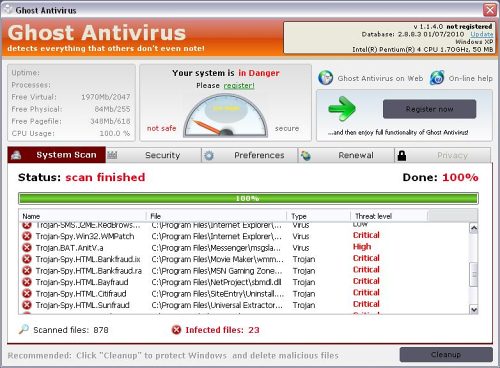 Ghost Antivirus manual removal:
Kill processes:
ghostav.exe
unins000.exe
[random symbols]onin.exe
services.exe
Unregister DLLs:
WMILib.dll
[random symbols].dll
Delete files:
ghostav.exe
register.ico
unins000.dat
uninst.ico
web.ico
working.log
ghost.sql
Infected.wav
listing.cfg
version.db
WMILib.dll
[random symbols].dll
Ghost Antivirus.lnk
Ghost Antivirus Home Page.lnk
Ghost Antivirus.lnk
Purchase License.lnk
settings.ini
uill.ini
unins000.exe
Uninstall Ghost Antivirus.lnk
links.txt
times.conf
Ghost Antivirus.lnk
iGSh.png
iMSh.png
iPSh.png
pguard.ini
services.exe
[random symbols]onin.exe
Delete directories:
%Program Files%Ghost Antivirus
%Program Files%Ghost AntivirusLanguages
%Program Files%Ghost Antiviruslib
%Documents and Settings%All UsersStart MenuProgramsGhost Antivirus
%Documents and Settings%All UsersApplication DataGhost Antivirus
%Documents and Settings%[User Name]Application DataGhost Antiviruslib
About the author